Powell 365 is a Gold Sponsor of SharePoint Fest DC 2018
Meet the Powell 365 team in Washington DC, for SharePoint Fest, booth #405, on March 26-30, 2018.
The SharePoint Fest event series will be going strong for eight years in 2018! Powell Software is happy to sponsor this exclusive SharePoint, Office 365 and Azure technology conference taking place in Washington DC on March 26-30, 2018.
SharePoint Fest DC
Now a five-day event, SharePoint Fest DC starts with two days of preconference workshops taught by Microsoft Certified Trainers, Microsoft engineers, and Microsoft MCM's and MVPs. Then the conference continues with three days of interactive seminars and exhibits. With 130 sessions covering 10 different market topics it is sure that you will leave the event with tons of new knowledge on how to leverage your business processes. If you are looking to leverage your Office 365 stack and SharePoint by implementing a digital workplace for your company, you need to come to SharePoint Fest DC and visit the Powell 365 booth.
Discover Powell 365
SharePoint Fest DC is a great place to discover Powell 365 digital workplace solutions. Powell 365 is a ready-made digital workplace that is built on top of the Microsoft Office 365 collaborative suite and focuses mainly on end user needs. Instead of pushing Office 365 tools at employees, Powell 365 helps companies take advantage of Office 365 and SharePoint by providing a compelling and user-friendly way for employees to communicate and collaborate.
Daily operations are eased and employee interaction is increased thanks to useful features such as Yammer, Delve, Office Video, Power BI, Dynamics CRM Online, Groups, Planner, Skype Online and more. On average, our customers see Office 365 employee usage jump to 90%! With Powell 365, your employees will become more engaged, more motivated and stay informed on the latest campaigns, initiatives, KPIs and more.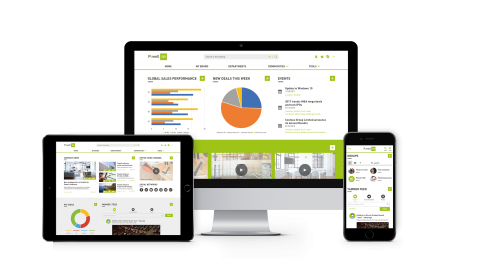 Powell Manager
Behind every Powell 365 portal is the Powell Manager WYSWYG designer. Powell Manager lets your IT team create an optimized user experience on Office 365, without any coding or custom development needed. In as little as 2-4 weeks, you can build a completely customized online, on-premise or hybrid intranet solution on top of Office 365 and SharePoint. Keep your Powell 365 intranet portal on par with the latest Microsoft updates and digital workplace features and have the freedom to manage your site layouts, widget designs and more.
See you in Washington!
The Powell 365 team will be on location showing off the latest Powell 365 updates and Powell Manager features. Make sure to stop by at the Powell 365 booth #405 in the exhibition hall! We will be more than happy to present a hands-on demo of all the different site verticalizations possible with Powell 365 and Powell Manager. Don't miss out! Get your ticket now and save your spot at this interactive conference. You can save 15% on your ticket purchase by using the code Powell365DC15
Interested in Powell 365 but unable to attend SharePoint Fest DC? Please contact us today and we can put you in contact with the right people to get your digital transformation project off the ground.