In February 2019, a global swarm team consisting of experts from Communications, HR, and IT at ZEISS  launched their new digital workplace TEAM ZEISS. Aiming to offer a superior customer experience, TEAM ZEISS is a core entry point for all internal information, tools, collaboration, and networking. The strategy behind this digital workplace transformation was to implement a modern, highly personalized, and user-friendly portal that drives digital employee communication and collaboration on a global scale for 27,000 employees around the world.
This is the story of how ZEISS Group successfully realized its goal to transform their digital workplace together with Powell Software.
Challenges
Before launching TEAM ZEISS, communication and business tools were often scattered and isolated among different business groups and regional offices.
"An important cornerstone of our strategy is to connect TEAM ZEISS and activate colleagues worldwide. To reinforce these ideals, we wanted to regroup the various outdated and unintegrated platforms and present a global approach to internal communication. Through this project we've removed redundant tools, enforced and adjusted a global company perspective and quickly implemented more modern, more digital, and truly global tools for communicating and sharing information."

Dr. Charlton Payne, Channel Manager for Internal Communications, Corporate Brand and Communications, ZEISS Group
Technology Behind the Solution
The communication platform sits on top of SharePoint and incorporates Office 365 tools in such an engaging way that most companies see an 80% increase in usage, thanks to the platform. Plus, Powell 365 includes over 70 customizable ready-to-use SharePoint templates that simplify platform creation, offering a lower cost alternative to a custom build. Powell 365 resonated well with ZEISS and was a flexible, full-cloud solution that combined SPFX web parts.
Powell Software is an international software vendor that drives digital transformation by offering intelligent digital workplace solutions. Through our collection of easy-to-use collaboration, productivity, implementation, and governance products, we help customers all over the world realize their digital workplace projects from A to Z with ease.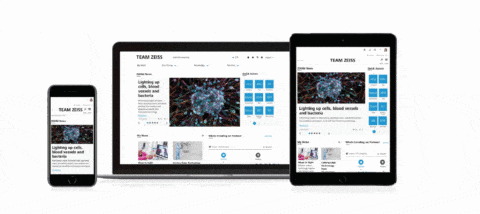 Results
The digital workplace project TEAM ZEISS has resulted in major improvements in internal communication and collaboration across the company. Here are some of them:
Improved work efficiency and effectiveness for a networked organization
Increased global communication and strengthened cross-functional colla­boration
Easy access to all relevant information
Enabled learning across the organization
Thanks to Powell 365, the company was able to fast-track Office 365 adoption. As a result, their employees started to use new tools such as Teams, OneDrive, and Yammer. A completely branded mobile app was launched. That allows ZEISS to potentially reach 100% of their workforce.
About ZEISS Group
ZEISS is a German manufacturer of optical systems and optoelectronics, founded in Jena, Germany in 1846 by optician Carl Zeiss. The international company is represented in more than 40 countries and has over 50 sales and service locations, more than 30 manufacturing sites, and about 25 research and development centers around the globe.