Why Personalize Your SharePoint Intranet?
SharePoint out of the box provides a solid foundation for building an intranet. Yet, for most businesses, it doesn't meet the high expectations and diverse needs of employees.
The limitations of SharePoint out of the box:
The basic functions offered by SharePoint may not be enough to deliver the personalized and engaging experiences employees demand.
Employees expect intuitive navigation, modern design, social collaboration tools, intelligent search capabilities, and seamless integration with other business applications. They want an intranet that aligns with their work style, facilitates communication and collaboration, and provides quick access to relevant information. It's best practice to design your intranet that meets employees' needs. To do so, businesses often require extra customization, advanced intranet features, and integrations that go beyond SharePoint out of the box. This is when organizations turn to third-party solutions to provide a more tailored digital workplace experience.
The benefits of a personalized SharePoint intranet:
Enhances user engagement, productivity, and satisfaction within an intranet.
Aligns your SharePoint intranet with your organization's branding.
Makes it easier for users to navigate.
Ensures relevant content reaches the right people.
Allows you to create a tailored digital workplace that reflects your company's culture, values, and unique requirements.
Brand Your SharePoint Intranet
Branding is crucial in fostering a sense of familiarity and belonging when using the intranet. SharePoint offers several features to help you brand your intranet.
Set Your Theme
Start by setting a consistent and visually appealing theme that reflects your company's branding guidelines. SharePoint allows you to customize the colors, fonts, and overall look and feel of your intranet. You can create a cohesive appearance by using your organization's logo and incorporating brand elements throughout the site.
To set the theme in SharePoint:
Sign in as an admin.
Navigate to the desired site, and click the gear/settings icon.
Choose "Change the look" or "Site settings" and locate the theme option.
Browse and select the desired theme, then apply it to the site.
SharePoint will show you real-time previews, and once you're satisfied, click "Save" or "OK" to make the theme permanent.
By following these steps, you can easily set the theme in SharePoint to customize the appearance of your site.
While SharePoint provides a set of default themes, third-party solutions offer a larger library designed to enhance the intranet's visual appeal and user experience. Here's an example of one of Powell Intranets' seasonal themes:
An advantage of a solution like Powell Intranet is that you can apply the theme across an entire site collection and update it easily. Instead of doing this site by site.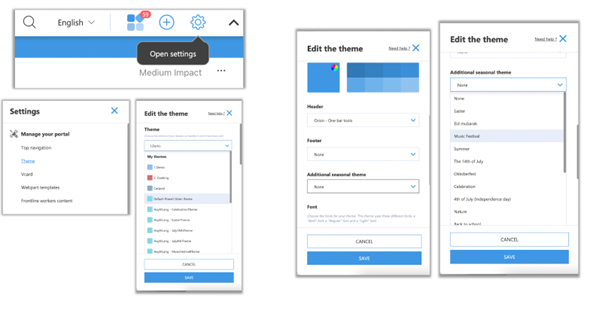 Set Your Header/Footer
The header and footer of your intranet built on SharePoint are prime real estate for showcasing your brand. Customize these sections with your company's logo, tagline, and links to resources or frequently accessed sites. This personalization reinforces your organization's identity and improves the user experience.
Customize your SharePoint site's header and footer by accessing the "Change the look" or "Site settings" page. Look for the header/footer option and make changes, such as setting the logo, title, tagline, and navigation links. Save your modifications to apply the customization.
Is the native SharePoint menu enough? Probably not. Many users need help to use it.
Third-party solutions like Powell Intranet improve menus in SharePoint by offering simplified navigation, dynamic and personalized menus, customizable designs, integration with external systems, and mobile-friendly layouts. For example, with Powell Intranet, you can manage your navigation menu directly in the front end. Add links to pages and sub-pages by dragging and dropping them. These enhancements improve the user experience and make navigation more efficient.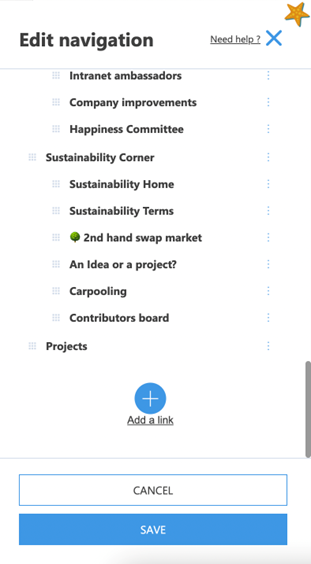 Create Your Own Pages
SharePoint empowers communication managers to create personalized intranet pages. This feature allows you to deliver targeted content to specific groups of employees, departments, or teams.
Let's say you want to create a page for your marketing department – how would you do it?
To create a SharePoint page for your marketing team:
Log in and navigate to the desired site.
Access the pages library and create a new page using a suitable template.
Customize it with text, images, and sections for announcements, updates, and resources.
Add dynamic content using web parts like calendars or document libraries.
Once ready, publish the page and share its URL with your team. Remember to update and maintain the page to ensure its usefulness regularly.
Could the experience be simplified? Yes, that's why so many companies turn to external solutions which offer a better contributor experience.
Powell Intranet, for example, provides pre-filled templates tailored to departments like sales, HR, and marketing. These templates save time by providing ready-made content and structures, while the department-specific tools streamline tasks and improve collaboration. You'll be able to easily create professional-looking pages for your teams, promoting effective information sharing and productivity within your organization.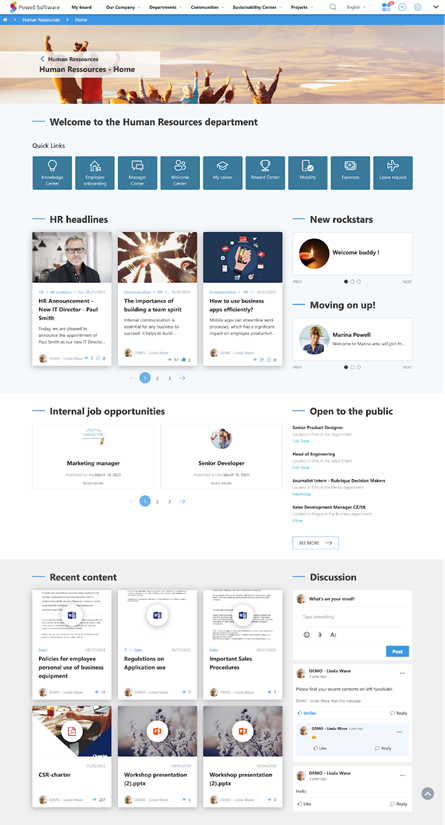 Add Custom Web Parts
Custom web parts are powerful tools for personalizing the SharePoint intranet experience. These components enable you to add functionality, integrate external applications, or display specific content. You can use custom web parts to create personalized dashboards, news feeds, task lists, and other relevant modules.
If you build your intranet with a solution like Powell Intranet, you'll have access to SharePoint and Viva Web Parts as well as a catolog of 60+ exclusive Web Parts. The goal is to enhance SharePoint's capabilities and create a customized digital workplace that aligns with your company's needs.
Why Use a Third-Party Solution Provider to Personalize Your SharePoint Intranet?
While Microsoft SharePoint offers several customization options, using a third-party solution can significantly enhance your intranet's personalization capabilities. These providers specialize in developing add-ons, extensions, and pre-built templates that allow you to tailor your intranet without extensive development efforts.
By choosing a third-party provider, like Powell Intranet, you can access advanced personalization features, such as intelligent content targeting, social collaboration tools, and enhanced search functionality. These providers often offer user-friendly interfaces and drag-and-drop functionality, enabling communication managers to customize the intranet easily, even without technical expertise.
Who should work with a third-party solution provider?
Large companies who want a hyper-personalized intranet.
Medium to large companies who want to go beyond the basics of SharePoint and provide a better UX.
Who should stick with SharePoints native customization options?
SharePoint alone might be enough if you're a small company with less than 100 users
Examples of Successful Personalized Intranets
At Powell Software, we've helped over 450 organizations to personalize their SharePoint intranets to meet specific business needs successfully. Here are a few examples:
RSL LifeCare's dated legacy intranet failed to align with its brand values. Recognizing the need for a unified, personalized platform to serve as a single source of truth, they sought to provide easy access to policies, connect their distributed workforce, and effectively communicate urgent information to all employees. In partnership with Powell Software and Synergy, RSL LifeCare embarked on a transformative journey, transitioning to a sophisticated intranet solution catering to the field and office-based personnel. Today, they enjoy streamlined access to documents and improved searchability, empowering their workforce with a more efficient and connected digital environment. Download the full success story.
Bass Coast Shire Council desperately needed a modern and user-friendly intranet on SharePoint Online. Their existing on-premise intranet was outdated, clunky, and had been largely forgotten. Seeking an improved solution that combined ease of use with the power of SharePoint, Bass Coast turned to Powell Software. Through a user-focused implementation process, they successfully transformed their intranet into a vibrant and engaging "living space." Now, Bass Coast enjoys an intranet that meets their needs and empowers their employees. Download the full success story.