We are thrilled to announce that Powell Software has been included in the 2022 intranet platform report from Forrester, a leading global research and advisory firm. The report compares "12 providers that matter most", and this year Powell Intranet is one of them.
Our main takeaways from the report
Powell Intranet is acknowledged by Forrester for its "strengths [around] collaboration, delegated administration, and templating capabilities." Our intranet solution "provides multilingual deployments, cross-tenant search, and mobile apps for non-Microsoft licensed employees."
We believe that it is these features that allow Powell Intranet users to inform and engage employees while maximizing their Microsoft 365 investment and taking the SharePoint intranet to the next level.
We are particularly proud of what our customers had to say!
"Reference customers expressed high satisfaction with Powell Software's internal communication tools, design capabilities, and professional services" The Forrester Wave™: Intranet Platforms, Q1 2022.
On the announcement, Powell Software CPO Matthieu Silbermann said, "We are pleased to enter the Forrester Wave for the first time and have our intranet platform recognized among the most significant providers on the market."
The Forrester Wave™: Intranet Platforms, Q1 2022 report is available for purchase from Forrester.com.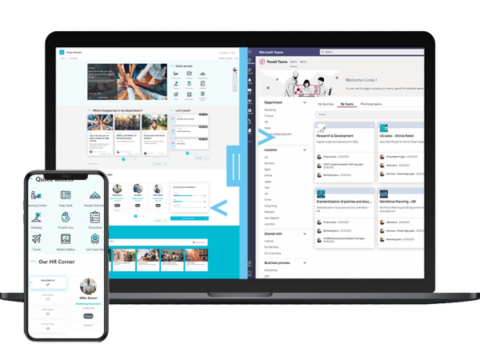 About Powell Intranet
Powell Intranet is the company intranet on Microsoft 365 to inform and engage employees. Easy to deploy and scale, our platform offers you a flexible and inclusive communications solution. Leverage the potential of SharePoint with full customization, improved search, and navigation along with targeted content and seamless Microsoft Teams integration.
Ready to talk to our team and see for yourself why Forrester says, "Large enterprises committed to the Microsoft 365 ecosystem should consider Powell Software to optimize communications and EX"?