POWELL INTRANET
We are thrilled to announce the latest release of our product, available from April 28th onwards. We have added an array of new features that will take your intranet experience to the next level.
Let's dive in and explore the exciting features in detail!
Webpart Catalogue – Webparts Description and Zendesk Tooltips:
We continue to prioritize ease of use and accessibility for our contributors. With this in mind, we have added detailed descriptions to every webpart in the catalogue. Now, you can quickly and easily understand the functionality of each webpart. Our catalogue will make the contribution experience even more smooth and efficient!
Check out the Web Part Catalog on the Powell Intranet Help Center.

In addition, we have integrated tooltips to guide you through any further questions you may have. Click on Need Help to be redirected to the documentation for your web part and access a dedicated article to guide you on how to use them.
Must-Read – Let the Administrator Choose the Gamification Action for a Must-Read:
We understand the value of gamification in driving engagement and fostering a positive work culture. With this in mind, we have added a new feature that allows administrators to select the gamification action they want to trigger when a mandatory reading item is read.
Employees are incentivized to read mandatory content on the intranet as it is tied to gamification actions, creating a more engaging and rewarding experience.
Powell Vcard: Builder to Define the Information Displayed in the Vcard:
Your Vcard is an essential tool for sharing information and building professional connections. Our new Powell Vcard feature enables administrators to create a customized Vcard that highlights specific information blocks based on desired properties.
You can define a block of information based on a single property, multiple properties, rewards, or organizational charts to completely tailor your Vcard.
Kudos – Be Able to Send Unlimited Kudos to Multiple Users:
Our Kudos webpart now allows our users to send kudos without limits to multiple collaborators simultaneously. This feature enables you to select countless users at the same time, triggering the gamification action multiple times for each user to whom the kudo is sent.
Personal Favorites – Add a Search Box to Help Users Find their apps:
If you have apps and links on your intranet, finding your favourite content can be a daunting task. That's where our Personal Favorites feature comes in, allowing you to save and organize frequently accessed content in one convenient location. And now, with the addition of a search box, locating your favourite content is even easier.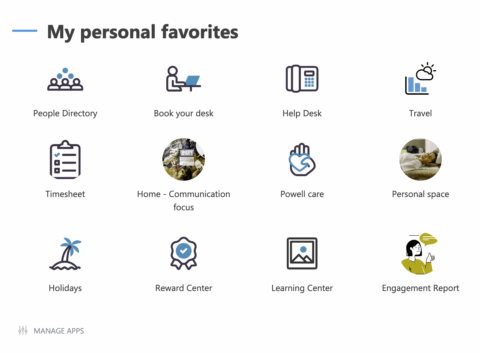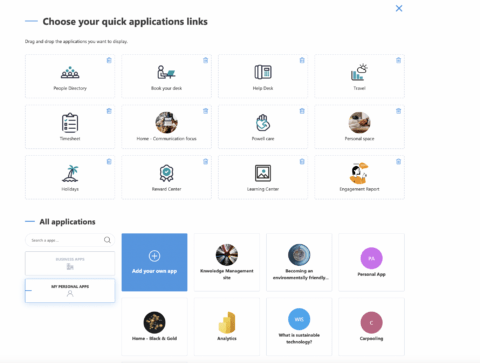 Special Announcement
Flow – Powell flows

Exciting news! You can now easily share Powell Intranet communication in Microsoft Teams using the Flows we've created just for you. This latest capability was developed in response to our customer's requests for a simpler way to collaborate and stay informed. Our Flows make it easy to share communication, news, alerts, and more with your colleagues in Teams and its channels.
If you need any help getting started, head over to our Help Center's "Extend" section for all the info you need. Upgrade your collaboration with Powell Intranet's new Flows today!
Visit Release Notes for May for more detailed information.
POWELL TEAMS
We are excited to announce the release of several new features designed to enhance the user experience and make it easier for administrators to manage their tenants. Here's a breakdown of the new features and their benefits:
*All the features of the Powell teams listed here will be available starting the week of June 9th, 2023
KPIs on the user dashboard (for end-users)
With the new KPI feature, end-users can now easily see the total number of teams in each tab of their dashboard. This feature can be especially helpful for those who need to clean up their teams periodically.
New teams reports
We are excited to announce that Powell Teams has recently added new reports to our existing set of tools, designed specifically for administrators to better monitor and manage their tenants' activities.
We understand that channels and applications are key indicators of usage activity and maturity. That is why we have included new reports that provide insights into
Teams with private channels

Teams with only one channel (general)

Teams with applications

Archived teams
SharePoint site reports
We have received numerous requests for real-time reporting on SharePoint sites. In response, we've introduced the SharePoint Site Reports feature which allows you to monitor 7 SharePoint site reports.
These new reports will help administrators better manage their SharePoint sites by providing real-time insights into site usage and activity.
For more detailed information, visit the Release Notes for the month of May!
We hope these new features will help you work more efficiently and effectively!