Meet co-sponsors Powell Software & Sogeti Netherlands at Office 365 Engage 2017
Office 365 Engage is just a few weeks away! This year, we are co-sponsoring the event with our partner, Sogeti Netherlands! We couldn't be more excited to see all the Microsoft MVPs and reconnect with all our favorite Office 365 experts at this renown networking event, taking place on June 19-22 in Haarlem, Netherlands.
AN OFFICE 365 EVENT
Office 365 Engage is an annual event for Office 365 users. The conference brings together ends users from all different backgrounds to experience a new and insightful view of Office 365. Attendees from around the world make new connections and learn how to maximize current Office 365 functionalities while benefiting from hands on explanations of Microsoft's latest investments. There are tons of different sessions that cover topics ranging all the way from security to implementation to adoption to development and even tips and tricks with PowerShell.
Powell Software is committed to offering the best Office 365 experience via the Office 365 digital workplace, Powell 365. We couldn't pass up participating in this great event with Sogeti Netherlands and introduce this collaborative solution to our Office 365 peers.
DISCOVER POWELL 365
Office 365 Engage is a great place to discover Powell 365! Powell 365 is a packaged intranet solution that transforms the Office 365 user experience and boosts communication, collaboration and business productivity. As a collaborative intranet, Powell 365 helps accelerate the digital transformation of any enterprise by enriching internal communication with all the functional components of Office 365. Daily operations are eased and employee interaction is increased thanks to useful features such as Yammer, Delve, Office Video, Power BI, Dynamics CRM Online, Groups, Planner, Skype Online and more with access from anywhere, on any multi-device and at any time.
The Powell 365 digital workplace was created to boost the adoption and usage of the Microsoft Office 365 suite. Our clients see Office 365 feature usage jump to 90 percent on average!  Powell Software has transformed employee engagement and Office 365 feature usage for more than 250,000 people who currently use the intranet solution Powell 365.
MEET OUR CO-SPONSOR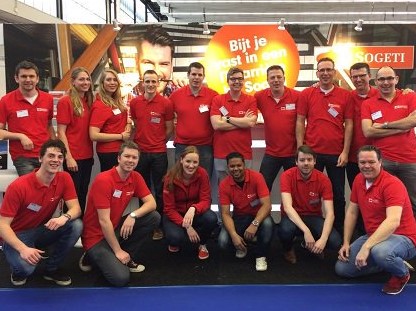 In 2016, Powell Software partnered with Sogeti Netherlands, the leading information technology company based in the Netherlands, to offer a new approach to the Microsoft Office 365 suite, with the compelling digital workplace, Powell 365. For more than 30 years Sogeti has been dedicated to technology and engineering services that enable digital transformation and offer cutting edge expertise. Thanks to Powell 365, Sogeti customers transition into an Office 365 digital workplace with a fast implementation and user friendly adoption strategies. The intranet solution facilitates adoption processes while improving individual and collective productivity. This is the first time Sogeti and Powell Software have joined forces to co-sponsor an event and we hope to see you there.
VISIT OUR BOOTH
To find out more about the Powell 365 digital workplace, visit our booth! Come see live demonstrations of the Powell 365 intranet presented by our partner or a member of the Powell 365 team. You can also check out our other complementary Sogeti products. Take this chance to speak with a Powell 365 expert and learn from our first-place winning SharePoint developers! Emilie Bonnin, the Powell 365 Technical Architect and Alexandrine Loumouamou, a Powell 365 Developer, will be on location to answer any questions you might have.
We want to hear your thoughts, comments and any feedback! This is an excellent opportunity to take advantage of the Office 365 suite and accelerate your business productivity.
HOPE TO SEE YOU THERE!
Interested in Powell 365 but unable to attend the Office 365 Engage event in Haarlem, Netherlands? Don't worry! You can always get a free virtual demo online! Contact us today and we can set up a free demo!