Join us at the 8th annual North American conference dedicated to intranets and the digital workplace
Powell 365 is proud to annouce that we are official sponsors and exhibitors at the Digital Workplace & Intranet Global Forum, taking place at Coca-Cola HQ in Atlanta, Georgia. The conference will be held in the Coca-Cola Plaza on May 9-10th, and we are excited to a part of this global conference for intranet executives, managers and contributors.
The Digital Workplace & Intranet Global Forum
With a specialized focus on the design, governance and management of enterprise intranets and social intranets, this event is one of the most anticipated events in North America. You will have the opportunity to see leading intranet case studies and presentations on intranet design, planning, governance and more from top companies such as Microsoft, Coca-Cola, ConocoPhillips, Liberty Mutual, LexisNexis, Lockheed Martin and more. The event will cover all the necessary digital workplace tools to include in your projects.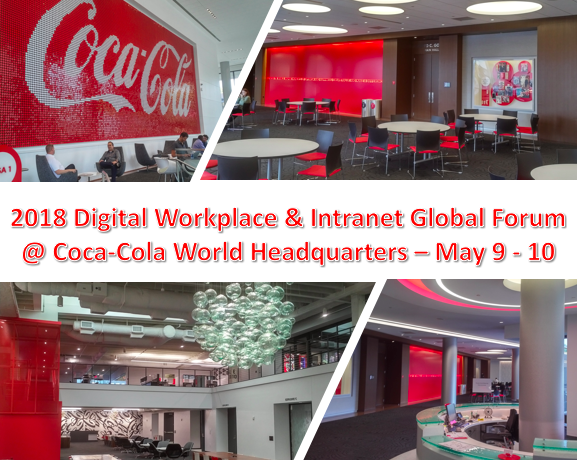 Are you planning to launch a new intranet or redesign your current company intranet? Do you want to learn the fundamental skills for designing, deploying and governing a corporate intranet? Are you interested in learning more about the recent market changes and digital workplace expectations? If you answered yes to any of these questions than this event is designed for you! You don't want to miss the Digital Workplace & Intranet Global Forum.
Visit us and discover our solution
Come see the Powell 365 team on location at Coca-Cola HQ! Don't hesitate to come over to our booth and ask our experts questions. We enjoy showing off the Powell 365 intranet with a live demo. Check out the latest Powell 365 updates and Powell Manager features. We will be more than happy to discuss with your intranet options and give you some tips and tricks on building a SharePoint intranet.
Interested in Powell 365 but unable to attend the Digital Workplace & Intranet Global Forum? Contact us today and we can set up a free demo!