Why do intranets fail?
Apparently, 90% of intranet projects fail. 
But we're not so sure that's true anymore. And we know for a fact that not every intranet project is destined to failure.  
In fact, with today's solutions, creating a successful company intranet can be easy. 
Yet so many projects fail from the start because companies bypass the experts and take a 'DIY' approach. 
These traditional intranets fall into two categories Native SharePoint or a CMS Blog.  
SharePoint Intranets
Native SharePoint intranets offer lots of essential intranet features and integrations with the Microsoft 365 suite, but they lack engagement. IT often has difficulty designing and deploying personalized SharePoint intranet sites. In turn, end-users find the interface complicated and impersonal. So, it's no surprise that 40% of organizations say that their SharePoint implementation was not a success (AIIM).  
CMS Blogs 
CMS Blogs on the other hand, such as those built on WordPress, offer high levels of customization but fewer integrations and features employees need to be productive. These intranets are a common solution for companies looking to improve employee communications, but they often do not meet their objectives.  
What intranet solution should you choose?
There is a better option, a modern intranet built on Office 365 provided by SaaS (Software as a Service) experts like Powell Software.  
An intranet platform like Powell Intranet uses SharePoint as its base. The main advantage is that you can leverage tools you already have (Office 365), keep your content securely stored in Microsoft, but benefit from a smoother deployment, and better end-user experience. 
In this article, let's look at why most intranets fail and how to make sure yours won't with Powell Intranet. 
6 Top reasons why intranets fail
Complex navigation and search
An employee intranet is a central repository, a single source of truth, for company information. It's where all documents, guidelines, and news are stored.  
But that's no good if people can't find the information they're looking for. 
Too often intranets fail because employees simply cannot navigate. The result is a poor user experience, where people can't find information and get frustrated. 
A good intranet is easy to search and filter.
Powell Intranet includes an advanced search functionality based on SharePoint and Office 365 search. It provides search suggestions, refiners, and content previews.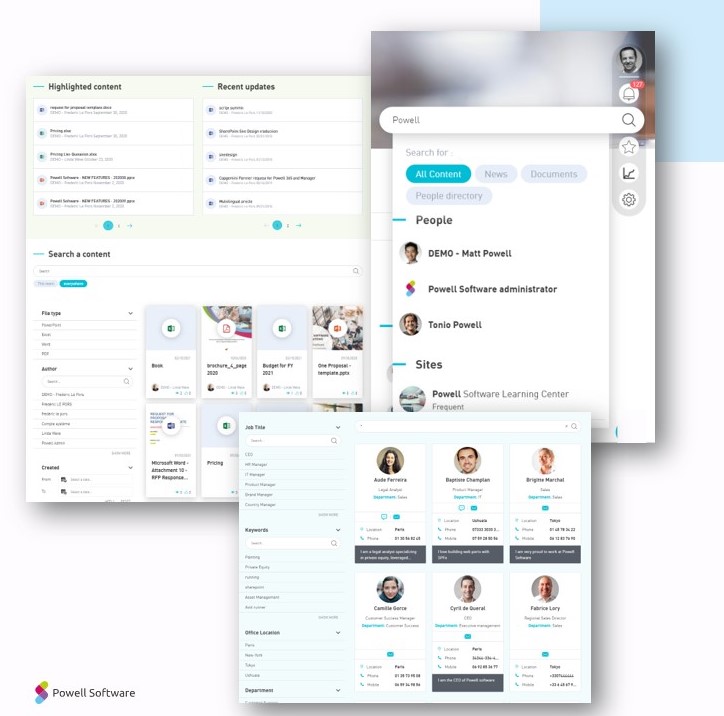 Lack of personalization
A staff intranet is an employee's virtual workspace. For remote workers, it might be the only truly corporate space they have. So it should reflect the company branding, just like the company website or office.  
Intranets fail when they lack customization. 
A successful intranet can be personalized, with corporate colors and logo so it reflects the company identity. 
Powell Intranet allows simple customization, like changing the color and logo of our default design. For more large-scale deployments we support custom CSS, JavaScript, and HTML.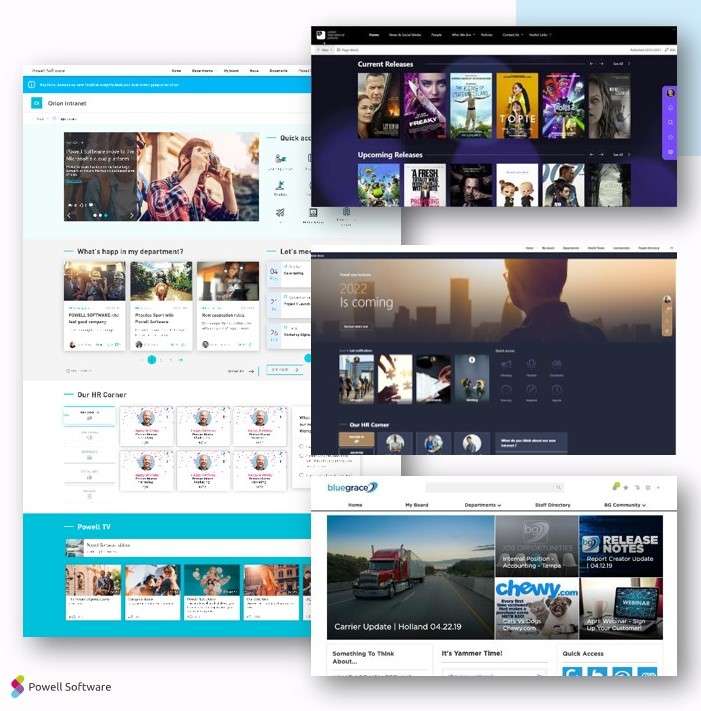 Complex contributor experience
An intranet should be a living, breathing space, always up to date with the last news and information. However, when it's too complicated for users to contribute, the intranet becomes stale quickly.  
Intranets fail when they rely on one or two highly trained people to create and update content.  
How do you create a successful intranet?
A good intranet offers an adapted contributor experience depending on the person's knowledge and skill set. 
Powell Intranet offers a 3 leveled approach: Basic, Advanced, and Expert. 
Basic: This is where you'll find most employees. For these contributors, they can easily create news and events, guided by Powell Intranet bypassing the sometimes-complex SharePoint. 
Advanced: Some people, like communications managers, will want to go further. These contributors can combine the simplified Powell Intranet experience with SharePoint customization.  
Expert: IT admins and site owners get access to everything basic and an advanced user has. They also can provide fully customized pages created in Powell Intranets core engine.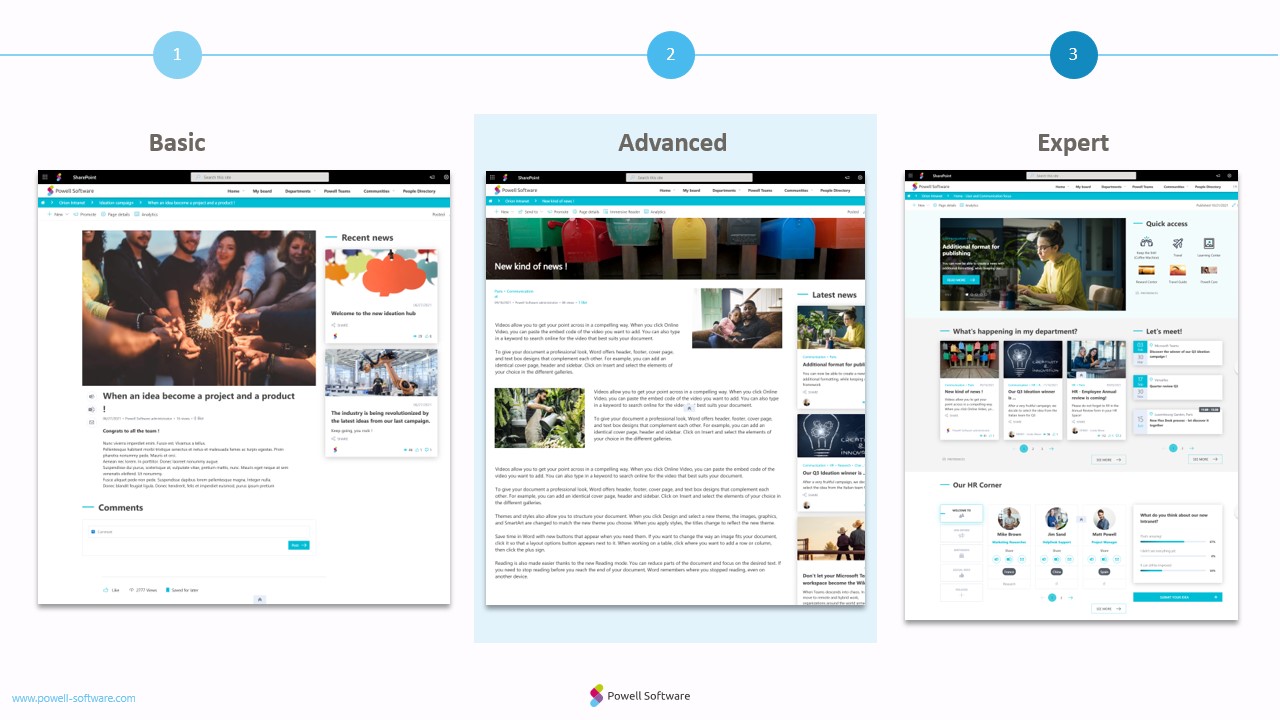 Information and content overload
Allowing multiple profiles to contribute to the intranet is a great way to keep it fresh and up to date. However, it can also lead to information overload. And without governance, things can quickly get out of control. This ''infobesity'' is another reason your intranet project could fail. 
A good intranet makes content and knowledge management easy.  
Powell Intranet leverages SharePoint capabilities to govern content creation. Contributors can create drafts and preview content, track versions and history, schedule content, and integrate approvals.  
Doesn't tackle modern business challenges
A good intranet improves communication, a great intranet goes even further. Many intranets fail because they are too simple, they only solve problems for one or two departments. 
A complete intranet solution, like Powell Intranet, helps every department solve real business challenges. For example: 
Not engaging or communication-friendly
What is the main reason intranets fail? Intranets fail when employees don't use them. 
It's simple, the intranet is designed as a space for employees. If they don't use it, it's failed its job. 
In the past intranets were designed for top-down internal communications. Now, any intranet created with that sole purpose just won't cut.  
Today's intranet needs to engage employees and give them a reason to log on.  
Powell Intranet is a complete digital workplace packed with employee engagement features like: 
And we're always introducing new features. You can now recognize your favorite colleagues by giving 'Kudos'! 
Why do our customers see two times more adoption than traditional intranets? They put the employee experience at the heart of their intranet project.  
How can you make your intranet project a success?
Tune into this on-demand webinar where our digital workplace experts dive into this question. Learn how to build a successful intranet – in 45 minutes!