Expertime, company behind Powell 365, selected as Microsoft Partner of the year 2016 for France
Expertime a company specialized in the digital transformation of companies around the world was named Microsoft France's partner of the year for 2016. The Partner of the Year Award recognizes Microsoft partners who have developed exceptional solutions based on Microsoft technologies over the past year. Selected from the prestige list of Microsoft partners, Expertime distinguished itself through its excellence in innovation, particularly in the implementation of innovative client solutions based on Microsoft technology.
"We are extremely proud to receive this award that adds value to our new digital workplace, Powell 365, which is based on Office 365 technologies and focuses on customer experience and usages. This award certifies Expertime as a true expert in Microsoft technologies and shows to our clients that they use the best solution on the market." Cyril de Quéral, Co-Founder & CEO Expertime.
Awards were presented in several categories, with winners chosen from a set of more than 2,500 entrants from 119 countries worldwide. Expertime was recognized for providing outstanding solutions and services, as well as representing excellent subsidiary engagement in France.
« We owe this award to the incredible success of our portal Powell 365, its 200,000 users that take advantage of all the Office 365 features and the unconditional support from Microsoft teams" Jean-Pierre Vimard, CEO Powell Software.
"We are honored to recognize Expertime of France as a Microsoft Country Partner of the Year," said Gavriella Schuster, general manager, Worldwide Partner Group, Microsoft Corp. "Expertime is a prime example of the excellent talent we see in our Microsoft partner community to deliver innovative and transformative solutions."
This award recognizes not only Expertime's commitment to Microsoft at the local level, but also the innovative services and devotion to its customers and their development.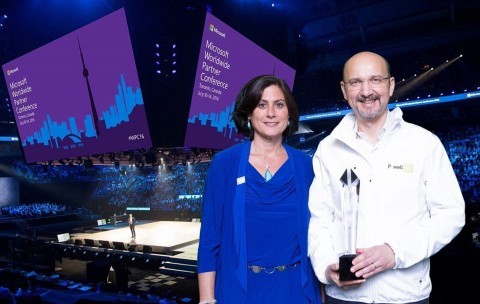 ABOUT EXPERTIME
Expertime is a specialized consulting and integration company for collaborative solutions in the Microsoft environment. Expertime is also an independent software provider with its Powell 365 portal for Office 365. With expertise in SharePoint, Yammer, Dynamics CRM and Power BI solutions, Expertime helps companies accelerate their digital transformation. Expertime is based in France and has a subsidiary Powell Software in the United States.