Today, we are proud to announce that we have over 450 Powell Software experts in our international partner ecosystem, officially certified and ready to deliver the best of Powell Software solutions to help customers transition to the "new normal".
A partner-first company driving strong ROI
Powell Software is a partner-first company and we rely on a network of digital workplace partners across the globe to advise and deploy Powell Software solutions to over 400 customers. Today we count 70 active partners across the globe covering 35 countries on every continent.
Our customers benefit from partners' immense experience working with companies of all sizes on their digital transformation. Partners in turn benefit from strong ROI. With Powell Software, for every $1 of Powell license our partners can generate up to $3.5 in incremental services revenue, from consulting, design, and integration to managed services and change management.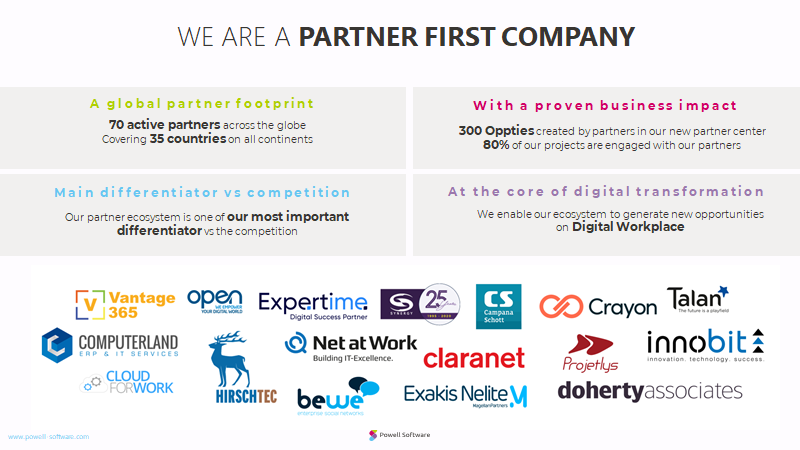 Delivering better digital workplace solutions
Our mission is to help organizations be at their best through our modern digital workplace solutions which combine communication and collaboration tools to engage and connect employees. To reach our destination we are continuously increasing our investments and resources in our performing partner ecosystem.
Partner & Certification Program 2021
That is why our new partner program, including our certification program, was finally released and implemented in July 2021!
The partner program has two goals:
Build an optimized and structured partner program with valuable give & gets.
Industrialize our support to our ecosystem with ready-to-go marketing, readiness, and certification assets.
These last few months have also been marked by the implementation of new tools and processes:
Our Partner Center, a platform entirely dedicated to our partners to provide a best-in-class experience to all of our channel partners which represents 533 users as of today.
We also introduced 3 expertise levels with specific engagements and benefits for each status: Activate, Silver, and Gold
The launch of our certification program to develop our ecosystem expertise
And more to come!
Partner Certification Program
An online readiness and certification program for our partners' sales, pre-sales, and technical experts.
Our Powell Software certification program is divided into three different categories:
Sales: Sales track to learn about our value proposition, pitch, and our strategy
Technical: The technical fundamentals about our two solutions Powell Intranet and Powell Teams to be able to do a basic deployment
Experts: Technical certification provided by our Professional Services department
In the first 6 months of our certification program, we are proud to announce that we already have 450 Powell Software sales and technical experts, certified on Powell Software solutions.
Our ambition is to have 1000 Powell Software certifications by the end of 2022!
What our partners are saying about the certification course:
"The implementation of a certification program is great because Powell Software has developed innovative products, which nevertheless require a good understanding of their concepts and operation. As these certifications already require a good knowledge of SharePoint and Teams tools, it is a real added value for the certified employees."
Paulo de Almeida, Service Delivery Manager, Exakis Nelite
"I recently completed Powell's certification programs and thought they were excellent. As someone who didn't have much experience with Powell's Software before taking the certifications, I found them very easy to follow and feel I have learned a lot about the products. Now the certifications have been complete, the learning materials will act as a great reference guide going forward. These certifications will not only strengthen our partnership with Powell but also allow us to better deliver the functionality to our customers."
Chris Colohan, Cloud Services Lead Consultant, Doherty Associates