What is a social intranet?
Most companies, even those that aren't remote, use an intranet in some capacity. Intranets are somewhat broadly defined as internal networks that are used to store files and communicate. But intranets have been around for a long time, and many are outdated. As a result, the tools and functions available in each system vary.
A social intranet specifically refers to a more modern type of intranet that is equipped with tools like multiple communication methods, real-time document collaboration, and organization-wide forums for discussion. With a social intranet, employees don't just access and share information. They connect, collaborate, and innovate.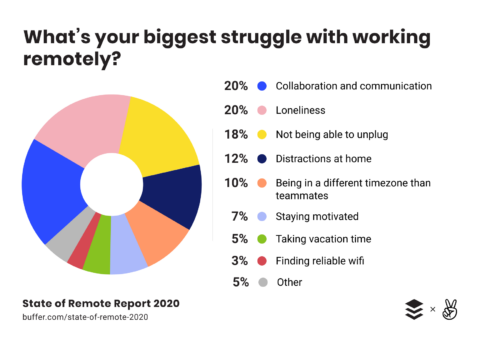 8 ways social intranet software helps unite the remote workforce
1. Stay in contact
Undoubtedly, the biggest advantage to equipping a remote workforce with social intranet software is the way in which it facilitates communication. According to Buffer's 2020 State of Remote Work, communication is the top challenge that remote employees face; a social intranet is the key to overcoming this barrier. Intranet communication tools are available anywhere, at any time, and from any device. Here are a few examples:
Email: One of the longest-running forms of workplace communication, email still has its place on remote teams. Emails are useful for communicating internally about non-urgent matters and externally with partners and clients.
Chat: Social intranet software like Microsoft Teams enables employees to quickly send instant messages, either between individuals or within groups.
Video conferencing: Instead of gathering in the conference room, virtual employees convene for meetings over video calls. Videoconferencing software can even be used to host company-wide seminars and events.
Forums: Forums are often an under-appreciated digital communication tool included in the social intranet. Employees can use these message boards to expand their networks, ask for help, and discuss topics of interest with anyone in the organization.
2. Collaborate on projects
When employees – remote or not – try to collaborate on work with a local file storage system, there's a high potential for confusion with multiple versions of documents being emailed back and forth as each contributor makes their own changes. With an intranet, everyone works from a single copy of the same shared file, which is stored in the cloud and can be accessed from anywhere with an internet connection. Platforms such as Microsoft 365 even enable multiple users to work on the same document at the same time without losing any of their changes. This feature combined with robust communication options make collaboration just as easy as sitting in the same room together.
3. Onboard new hires
An advantage of transitioning to a remote workforce is gaining access to the global talent pool. Onboarding these new remote employees is a much smoother process with a social intranet, from facilitating an engaging remote training process to providing recent hires with a platform to communicate. Remote employees feel more welcome from day one with the access a social intranet provides.
4. Gather employee feedback
Every company should be constantly gathering feedback to gauge the success of initiatives like digital adoption and employee engagement. Social intranet software offers a set of solutions that include polls and surveys for collecting input. Powell Intranet also empowers companies with social intranet analytics that give critical insight into how employees use tools and engage with content.
5. Facilitate networking
Internal networking offers tremendous value for both remote employees and the companies they work for. On an individual basis, networking plays a central role in career development and future opportunities. But companies can also benefit from the innovation generated by circulating ideas across the organization. Social networks give employees the opportunity to expand their outer circle in a way that has never been possible.
6. Encourage thought leadership
Not all intranet content comes from the top. On a social intranet platform, employees are free to become thought leaders and publish their own content in accordance with workplace guidelines. There's even an opportunity to start an employee advocacy initiative by encouraging your remote workforce to share content with their own personal social networks.
7. Promote a more inclusive culture
As companies pay more attention to workplace diversity, many are finding that social intranet tools help promote an inclusive culture. Certain groups that may have felt underrepresented in office spaces and in-person meetings face fewer barriers in a virtual environment. Of course, the ability to hire remotely also makes it easier for companies to bring in more diverse candidates over time.
8. Manage change
In a digital environment, change is inevitable and constant. The most important part of a change management strategy is communication; Gartner finds that employees' understanding of the reason for change plays a smaller role in overall success than the change itself. With a social intranet, companies can better communicate with their remote workforce and address the employee mindset component of new technological initiatives.
Have you given thought to how you'll manage change while adopting a social intranet in your organization? Powell Intranet was created to help companies with a smooth and fast transition so your remote workforce can get back to doing what they do best. Contact us to set up a demo and see how easy it is to deploy our social intranet software.