Elevating Microsoft Teams with Apps and Add-Ons
Microsoft Teams is a powerful collaboration engine facilitating the remote work revolution. An essential tool for the hybrid workplace, it has been adopted by millions in recent months.  
Today, add on apps and integrations can elevate base software to new heights. Take the example of smart-phones, without apps the phone itself wouldn't be quite as useful. In the same way, while the platform is revolutionizing work, the best Microsoft Teams apps can help organizations perform better. From project management and organization to teamwork and analytics, add-ons and integrations can introduce creativity and insights.  
A round-up of some of the best Microsoft Teams apps
5. Capture Opinions and Conduct Polls

 

– Microsoft

Forms 

 
Employee engagement and collaboration are key in the hybrid workplace , and polls or surveys can support this. Allow employees to contribute, gather data, or complete research. Each department has its use for surveys, from choosing a date for an event to voting on a new company slogan.  
Microsoft Forms allows individuals to create surveys and polls in chats and channels. Designing a survey is easy with a Forms tab where teams can work on a survey in real-time together. The Forms tab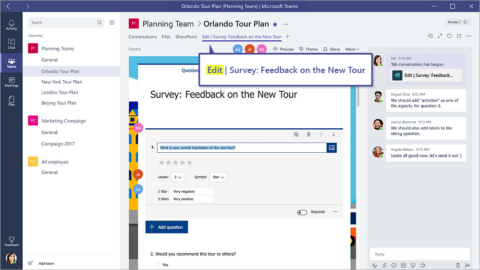 can be added to a Teams channel, for example, as part of a project management team. 
Get quick responses from Teams by creating polls within a conversation. Not only do polls increase collaboration, but they also keep employees engaged and interested.  
4. Organize Day to Day tasks and Project Management – Trello
Trello is an organization tool that allows users to create lists, cards, and boards. With Trello, individuals can organize their daily tasks and to-do lists. Users can keep track of what they need to do, and add comments, attachments, links, and more. Teams can also use it to collaborate on projects, assign tasks, add comments, and work together. It's a visual tool that helps teams and individuals see and organize tasks at a glance.
With the Trello Microsoft Teams app, Trello can be integrated into Teams in two ways. It can either be added as a tab, where users can see the full board. Or it can be configured as a connecter, so members are notified about changes to boards and cards within the channel. This simplifies collaboration as everything is kept in one place. When users don't have to search for tools, they are more likely to use them.
3
.
Manage Task
s
and Collaborate 
–
Planner 
Trello isn't the only option when it comes to task management. Microsoft has also created Planner to help teams visualize actions to be completed. With Planner, teams can create checklists, assign tasks, and keep on top of deadlines. Planner can be integrated into a Microsoft Teams channel through a tab, so it is easily accessible.  
The advantage of using Planner is that it offers the security expected of Microsoft 365 apps. It also easily integrates into other Microsoft apps to give a seamless experience. Sync tasks from Outlook email directly into Planner. When everything connects, users get a better experience.  
2. Make Informed Decisions with Analytics – Power BI
Some of the best Microsoft Teams apps can add fun and creativity, but there are also serious results-focused apps like PowerBI. This business intelligence and analytics program from Microsoft helps inform decision-making across organizations. PowerBI can be integrated into a Teams channel as a tab so it is easily accessible for everyone.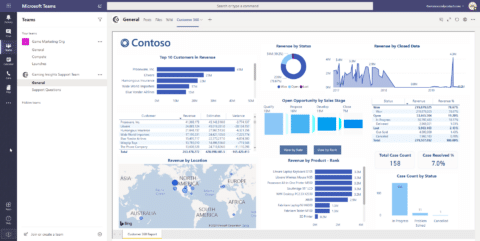 The idea behind every Microsoft Teams app and the add-on is that putting the tools people need in front of them, simplifies their job and boosts employee productivity. When something is hard to find, it's not only disruptive but also lowers the chance of employees using a tool that's there to help them.
While adding apps and integrations can increase collaboration and improve productivity, there is a notable stumbling point. If end-users can't find the channel or Team they need, collaboration is blocked at the outset. End users are being added to new channels and Teams regularly. With no proper control, Teams are duplicated or redundant and not archived.
It's headache-inducing, but luckily there's a Microsoft Teams app designed to conquer this.
1. Enhance End User Experience – Powell Teams
A superior Microsoft Teams' end-user experience starts from the beginning with the creation of Teams. With Powell Teams, users are guided through the process with naming conventions and tags. Templates simplify things further by creating a ready-to-go Team, pre-loaded with customized tabs. Lifecycle management ensures no more outdated, redundant, or empty Teams.
Once Teams are up and running, Powell Teams upgrades the user experience with an intuitive dashboard, making it easier to search for and find Teams and channels. When users can find the channels they are looking for, collaboration instinctively follows.
With controlled Teams creation and a user dashboard, the end-user experience is improved. Once the basics of Microsoft Teams are in place with Powell Teams, additional apps can be added.
Microsoft Teams Apps are key to turning this collaboration tool into a real asset in the digital workplace. To understand how Powell Teams can improve the end-user experience and secure governance, schedule a demo today.