Why does every Teams channel have a wiki tab and why get rid of it?
Wiki tabs are systematically added to your Team channels after a Team creation, even after a simple channel creation in an existing Team. Your end-users might have no use for such a tab. In this case, the Team owners will have to delete the wiki tab for every single channel. It can be a painstakingly slow task if you have several Teams.

Or maybe your users are more comfortable with OneNote. In fact, we advise you to consider OneNote instead of wiki for various reasons: First, OneNote can be used outside of Teams, helping productivity. Second, it has much more features than wiki such as drawing, dictation and keeps a history version of every page.
How can we remove a Microsoft Teams wiki tab?
Unfortunately, it's not possible to remove this option in native Microsoft Teams.
So knowing this, we decided to tackle this problem here at Powell Software. You won't need to execute any PowerShell or automation process. You will need to follow these steps to do so:
Remove wiki tabs from your reference team
Associate this team with a Powell Teams template (existing one or a new one)
Don't forget to resynchronize your Team settings if you are editing an existing template
Create a new Team using your adopted Powell Teams template
Your new Team will be provisioned with the tabs you choose to configure in your reference Team.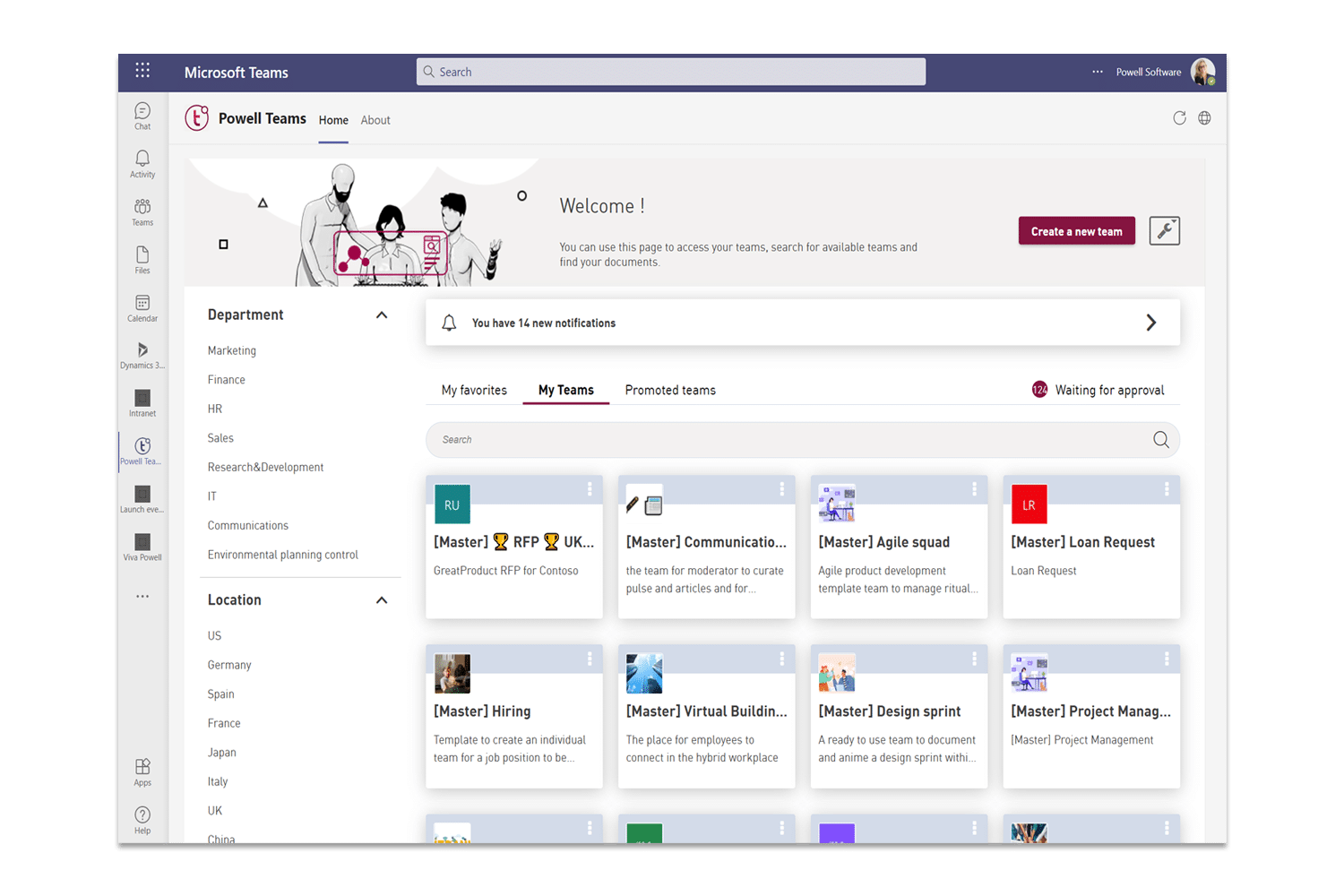 Simply put:
"If you remove a Wiki tab in a Team, and afterward use this Team as a reference Team in the template, the created Team though this template will not have a Wiki tab."
For Powell Teams users it's a simple process! You don't even need to create your own template, we have several ready to use. Our catalog of Powell Teams templates covers many use case scenarios, from remote employee onboarding to managing Sales RFPs. These templates won't include wiki tabs. If you want to know more about the Powell Teams template gallery, visit our help center.
Powell Teams for Microsoft Teams governance and user experience
If you're not a current Powell Teams customer, discover our extensive range of features with our free Microsoft Teams Health Check! Powell Teams is the Microsoft Teams app for better governance, allowing IT to manage the Teams lifecycle from creation to end of life. End-users benefit from better search and navigation with a user dashboard and engaging features like Teams templates and the Virtual Coffee Machine.