10 reasons Powell 365 is the digital workplace your employees will love to use!
Building a digital workplace is a bit like falling in love: it's exciting and new. Then a few years go by and one day you realize that its lost the level of employee engagement it once had. The digital workplace is constantly evolving and if your intranet is overly complicated or outdated, know that not all hope is lost! Powell 365 is here to help you overcome these challenges.
10 reasons to love the Powell 365 Digital Workplace
1. It's all about the end users
We offer the best user experience on Office 365! Your employees are critical to the creation of a corporate intranet. A digital workplace must have a corporate culture that focuses on employees and transforms how teams operate. Powell 365 hones in on employee needs and places everything at their fingertips, always providing a connected experience with every one of your employees.
2. It's simple
We like to keep things simple and straight forward. The Powell 365 intranet solutions are clear and easy to use. Employees can always find what they are looking for quickly. We provide an intranet experience that is pleasant for every kind of employee.
3. Increased engagement
Companies with engaged employees out perform those without by 202%! Centralize company news, events, and information into one conclusive environment where employees can thrive. Powell 365 plugs into the company culture making all employees feel right at home and up-to-date with day-to-day operations.
4. Fast results
Powell 365 enhances user satisfaction with innovative functionalities. On average, our clients see Office 365 usage jump to 90%! Once employees have the tools they need to thrive in their roles, they become happier and more effective. Generate an enjoyable experience with Powell 365 and increase productivity.
5. Anywhere, anytime, any device
Powell 365 is a flexible and intuitive intranet with a fully responsive design. Give your employees the opportunity to be completely mobile and access information on the go. Stay connected in real time, from anywhere and via any device!
6. Get the most out of Office 365
Don't start from scratch. Take advantage of your Office 365 suite and optimize all its great communication and collaboration tools. Powell 365 unifies all Office 365 features: SharePoint, Yammer, Delve, Office 365 Video, Power BI, Dynamics CRM Online, Skype Online, Groups, Planner, and more. We also incorporate other connectors, main external solutions like Facebook or Box and several other capabilities you may need.
7. Powell Manager Designer
Design directly affects employee engagement and intranet adoption. Powell 365 is powered by the most versatile digital workplace designer for Office 365 currently on the market. Based on a state of the art technology, this WYSIWYG designer makes it easy to align your intranet to your brand and support your company identity without any custom development. Just drag drop and deploy!
8. Quick to deploy
Cut implementation time and costs by a factor of two to four. With Powell 365, you can create one completely customized and attractive digital workplace without any coding or custom development. In as little as 2 to 4 weeks, you can build a top-notch digital workplace that delivers fast and agile results to end users.
9. Evergreen technology
Powell 365 is a simple and ergonomic solution that evolves over time with your company. Keeping your intranet fresh, and updating it regularly, will improve your users' experience. Our solution includes evergreen technology that always keeps your intranet up to date. We are in touch with the latest Office 365 and SharePoint evolutions and automatically upgrade your services, so you don't have to worry about it!
10. Strong support network
The Powell 365 team has your back! We walk you through the intranet process by providing insight, guidance and support. We also have a strong network of international partners who can help customers locally with all your intranet needs.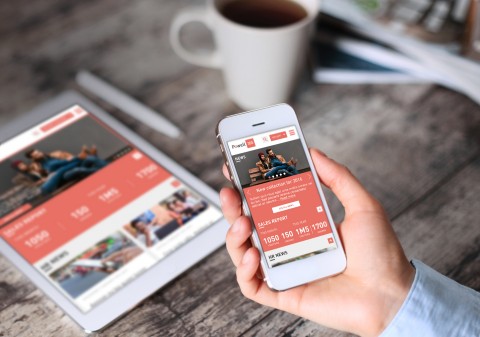 Love is in the air
Re-ignite the spark in your company culture with a Powell 365 digital workplace! Make this Valentine's Day a happy one and contact us today! Get in touch for a free demo!
Happy Valentine's Day!