The Latest SharePoint Evolutions
SharePoint On-line evolved a lot in the last months. We moved from the old school 2013 interface to the future, in minutes. It is not only the UX, technically everything has changed. This is the most trending discussion I have with partners and customers. The Modern Experience and the SharePoint new Framework (SPFx) are everywhere and the ultimate question is always the same:
"How can you manage these evolutions with Powell 365 & Powell Manager, the "SharePoint Designer" tool behind Powell 365?"
Powell 365 is the digital workplace for Office 365 and SharePoint On-Premises. It is an intranet solution that optimizes the user experience to develop communication and collaboration between your teams, a social company culture and a productive workplace. Powell 365 is an evergreen solution that evolves every month via the powerful design tool, Powell Manager.
Powell Manager is the WISYWIG tool that brings your collaborative intranet to life with the latest Office 365 features and Powell 365 innovations. Today, thanks to Powell manager, we support 100% of the Modern Experience features and the SharePoint new framework SPFx.
#1 – Create your modern templates in minutes without any development.
In Powell Manager designer tool, you can prepare your site template based on communication sites and Modern team sites within a simple interface:
Add your modern pages
Add your SPFx web parts provided by SharePoint, Powell365 or any custom development in the page and preconfigure them.
Add your list templates
Add extend properties to class and order your future sites based on this template (department, expiration date, country, customer, topic…)
#2 – Control your deployment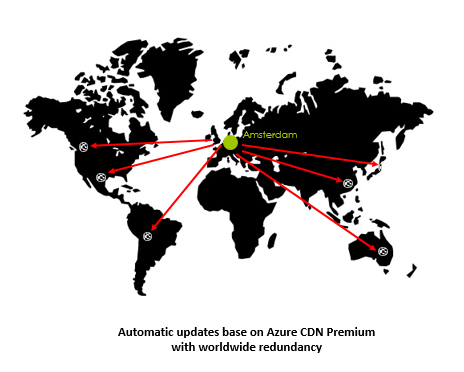 In Powell Manager, you can deploy your modern templates in SharePoint based on your required organization.
You can manage 3 environments (Development, Testing, Production) in multi tenants or not.
You can track which templates are in used in your SharePoint portals
You can also use them within Microsoft Groups and organize them with the extended properties
You can update your existing sites in one click when you modify a template.
#3 – Extend the functionalities with the Powell SPFx web parts or any custom SPFx web parts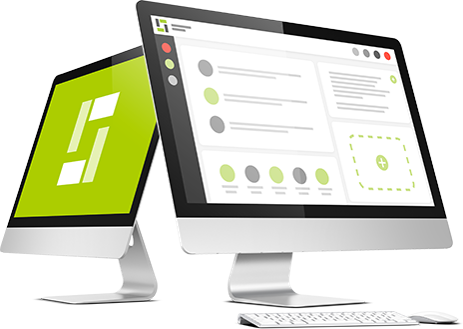 Modern template built with Powell Manager support:
All Microsoft SPFx web parts
All Powell 365 SPFx web parts (30+)
All custom SPFx web parts
You are not limited to our value proposition, you can upload any SPFx package (your development, 3rd part solution or license free projects) to Powell Manager and we will automatically make the web parts available in all your Powell site templates with the ability to pre-configure the web parts before the deployment.
We also support automatic full life cycle deployment of the components without any manual configuration.
#4 – Benefits from the enterprise search center features in the Modern Experience
With the Powell 365 search web parts, you can retrieve the full enterprise search features in the modern experience to build advanced scenarios based on your needs:
Powell Search box web part with Delve suggestions, "do you mean…?" function, scope search…
Powell Search refiner web part
Powell Search result web part with more than 20+ templates and custom queries.
#5 – Unify the branding and navigation across your sites collection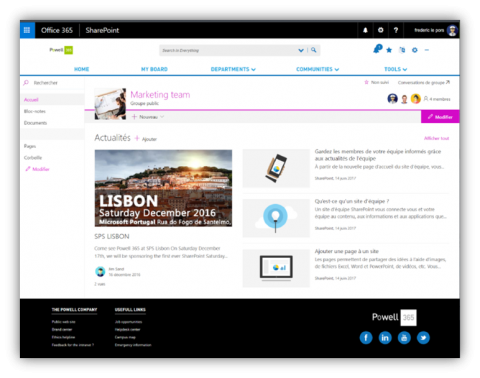 With the support of the SPFx extension feature in Powell 365 you can unify your header and footer wherever you are (publishing sites, modern team sites, communication sites) to provide a seamless experience:
a global role-based navigation on-line, on-premises and hybrid
simplified contribution without the need to go in the back office
Notification hub to centralize all the newest content (news, events, documents, yammer conversation….)
App manager for all your company apps
Favorites sites quick access
Unified design based on your company's branding
Roadmap
Support of the new SharePoint framework – in production
Support of modern team site templates – in production
SPFx extensions for header and footer – released immediately once the feature moves to "Early adopter" status
Communication site and modern layout – end of August
Powell SPFx web parts (full released) – end of September
For more information about the SharePoint Modern Experience with Powell 365 or the evolution of Powell Manager, contact us today!