The Request For Proposal process for Sales Managers
When it comes to responding to an RFP, the Sales or Account Manager leading the process aims to get things explained, organized, and executed in a way that respects the standards and maximizes the chances of winning. To achieve this goal, they must gather all the key stakeholders across departments, get them to work together, and share the information they need to properly prepare their case.
They must ensure everyone is aligned on the requirements, the context, and the customer focus points. Everyone must work together to avoid having different levels of information that could lead to misunderstandings. Finally, the Manager will want the team to be agile enough to adapt the sales proposal to new requirements or to quickly react against the competition and not lose any opportunity. This process can be conducted in Microsoft Teams but without RFP templates, the process is not straightforward.
How the RFP process can be executed with Microsoft Teams 
Let's take a deep dive into the execution of RFPs with Microsoft Teams to understand the ingredients for success.
From an operational point of view, a designated person will start building the foundations of the process by setting up a collaborative workspace in Microsoft Teams and adding members. The team can therefore benefit from a private workspace in which they can access and share information as well as getting insights from experts.
They will also create Team channels dedicated to specific topics to share the links, knowledge, and documents they need. The team may then need their Microsoft 365 or third-party applications, like CRM or analytics dashboards, accessible in the Team tabs gathering everything in the same place and improving efficiency.
All these operational processes can be business-critical in a fast-paced environment, in which being able to get quick insights and make decisions is crucial to winning opportunities.
"According to Gartner, Inc., 60% of sales organizations will merge their sales process, sales applications, sales data, and sales analytics into a single operational practice by 2025."
Managing RFPs in reality
The digitalization of business processes has great potential to save time and improve sales efficiency. However, RFP teams are usually not built in the most effective way, or not built at all. This results in a scattering of both information and the experience negatively impact efficiency and organization leading to poor results. Let's identify why even if the technology is in place processes might still not be efficient:
Team creation time – building and configuring an advanced Team dedicated to sales RFP is time-consuming and requires knowledge of IT and business rules. Not everyone has the time and knowledge to manage it.
Resources access – RFP stakeholders often struggle to gather all the information they need in one single and clear interface. These include documents, articles, key links, marketing materials, or customer testimonials. They usually do not have any structured portal where knowledge management is properly and intelligently managed with dedicated business scenario templates. Stakeholders often feel lost in a non-structured Teams sprawl with documents posted on the fly in channels. Finding the right resources can take precious time that could be spent working on the customer case and gathering differentiating data.
Task management – defining roles, tasks, and deadlines is an operational process that no one wants to handle.
Approvals complexity – people always have to chase others to get things validated. "Have you seen my document, and did you have time to update it" "Deadline is tomorrow, we should approve this quickly"? Who hasn't experienced this scenario? The result is that employees use emails or private chat to ensure they get approvals in time and fall outside of the collaboration experience they are trying to set.
Security & business rules – IT Departments can also apply strict usage and governance rules which can prevent or complicate lateral work across departments.
Formalizing the process with RFP templates
Powell 365 RFP templates remove the complexity from the Sales RFP process to truly make it efficient and allow organizations to get the most from their Digital Workplace.
Let's take a closer look at elevating the Sales RFP process by combining the power of the Microsoft 365 environment with Powell 365, composed of Powell Teams and Powell Intranet. Discover how ready-to-use Powell 365 templates erase the sales process problems and lead to wins.
How Sales Request for Proposals could be managed with Powell 365 RFP Templates
Sales Intranet integrated into Teams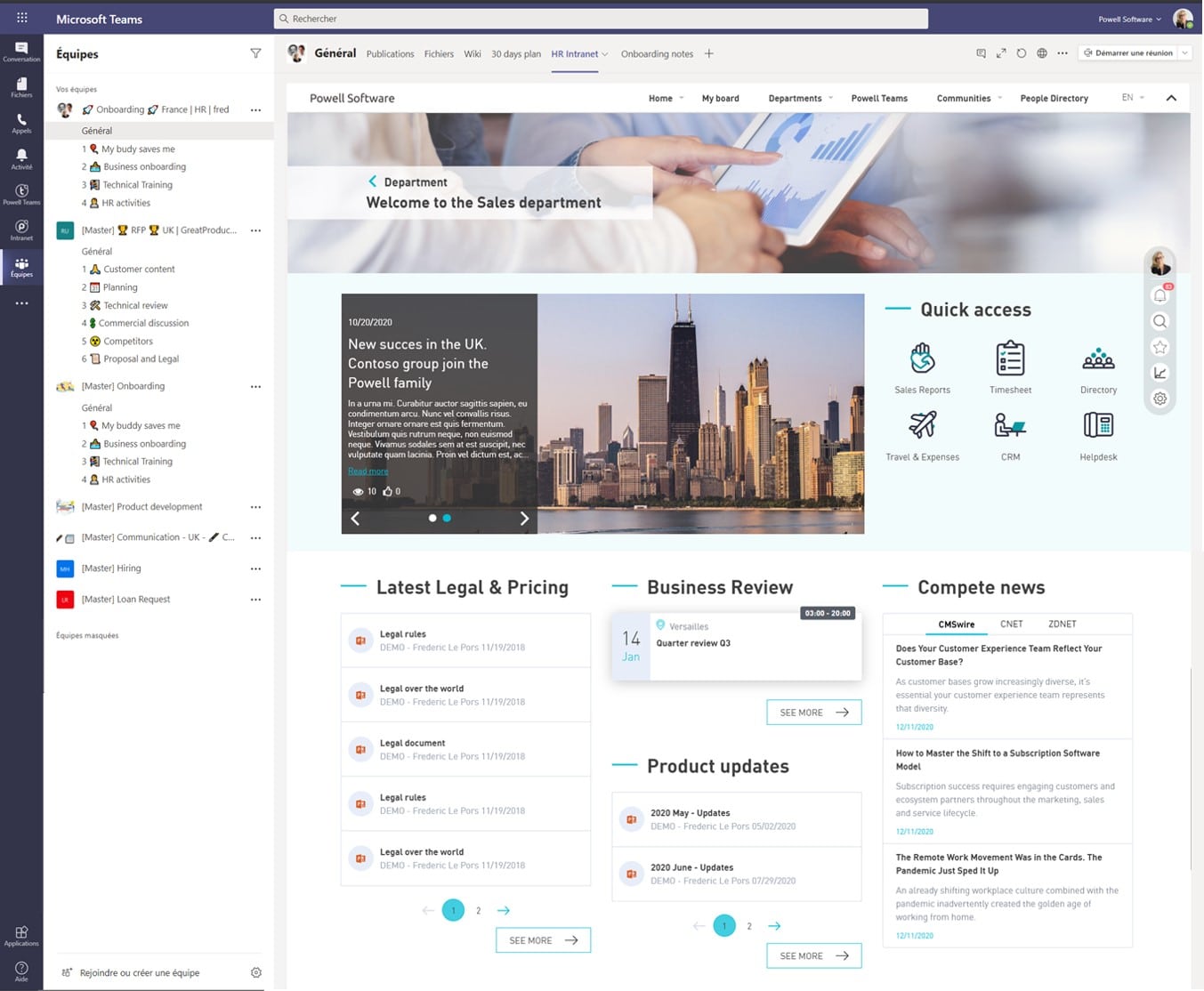 Opportunity management channel
Automatic approvals

Preconfigured tasks plan
Demo and Use Case Scenario: Linda, a Sales Manager
Linda has a new RFP and she uses Powell Teams RFP template to carry out the process: involving the full breadth of key stakeholders, collecting relevant inputs, taking data-driven decisions, and delivering meaningful results with differentiating data for her customer.
She is using the Sales RFP template in Powell Teams which instantly creates a dedicated workspace for her RFP. It is already predefined with channels and tabs, business applications, and it even has the intranet already integrated with a dedicated marketing and sales page with all the materials her team will need.
Click the image below to see the Sales RFP template from Powell 365 in action:
Interested in discussing how Powell 365 can help digitalize business processes, like Sales RFPs in your organization? Organize a demo with our team.