In case you haven't heard, AI may be entering your workplace soon. For nearly a year, Microsoft users have been eagerly anticipating a disruptive new technology known only as Project Cortex that promises to turn information management on its head. Microsoft Ignite 2019 attendees were the first to hear about this new initiative, but news quickly spread across global networks and has generated excitement ever since. A limited group of companies are currently testing Project Cortex, but it's possible that all subscribers will have access to the technology very soon, likely before the end of 2020.
Everything You Need to Know About Microsoft's Exciting New Technology
So what does all of this mean for Microsoft 365 business clients, and will it really change the future of work at your organization? As the anticipated launch date rapidly approaches, we're here to answer all your questions about Project Cortex, including what the technology entails, how you can use it, and when you can expect it.
What is Project Cortex?
Project Cortex is a new Microsoft technology that acts as a knowledge network within your organization's Microsoft 365 apps. The technology takes existing tools like Microsoft Graph, Search, and SharePoint and introduces AI to change the way data is processed. Information that is gathered through Project Cortex is then organized and presented in a way that shortens employee workflows, deepens company-wide knowledge sharing, and improves automation capabilities.

When will Project Cortex arrive?
As of now, Microsoft hasn't yet announced an official release date for Project Cortex, although many industry experts anticipate that the drop will happen at Ignite 2020, Microsoft's annual conference for IT experts. The technology was first announced at Ignite 2019 with an anticipated release in the first half of 2020, but this was delayed in March when Microsoft extended its private preview of Project Cortex. Ignite 2020 is scheduled to take place virtually sometime in September.
Who can use Project Cortex?
Ahead of Project Cortex's worldwide release, only a few select organizations have been able to use it. The Project Cortex Preview Program began accepting applications in December 2019 from companies that were interested in testing features and providing feedback. Participants that were accepted by Microsoft were required to sign an NDA, so there's little information available about the current status of the program.
Once Project Cortex is released to the general public, it will likely be included as a premium Microsoft 365 feature for higher-tier business and enterprise subscribers. However, Microsoft has yet to publish any specific information regarding pricing or access.
How will Project Cortex affect Microsoft 365?
Automatically generated topic cards and pages
One of the main differences you'll see in Microsoft 365 after the release of Project Cortex will be the appearance of topic cards. These cards show up as in-text links throughout many different types of content hosted in your organization's intranet. When you hover over a link, a topic card pops up with key information about that term. For example, a topic card generated for a project name would show an overview of the project, team members involved, and related resources.
Topic cards are clickable, and users who click on a card will be taken to a topic page with more details. Topic pages can also be accessed through the knowledge center, a personalized page that is generated for each employee with the topics that are most relevant to their needs.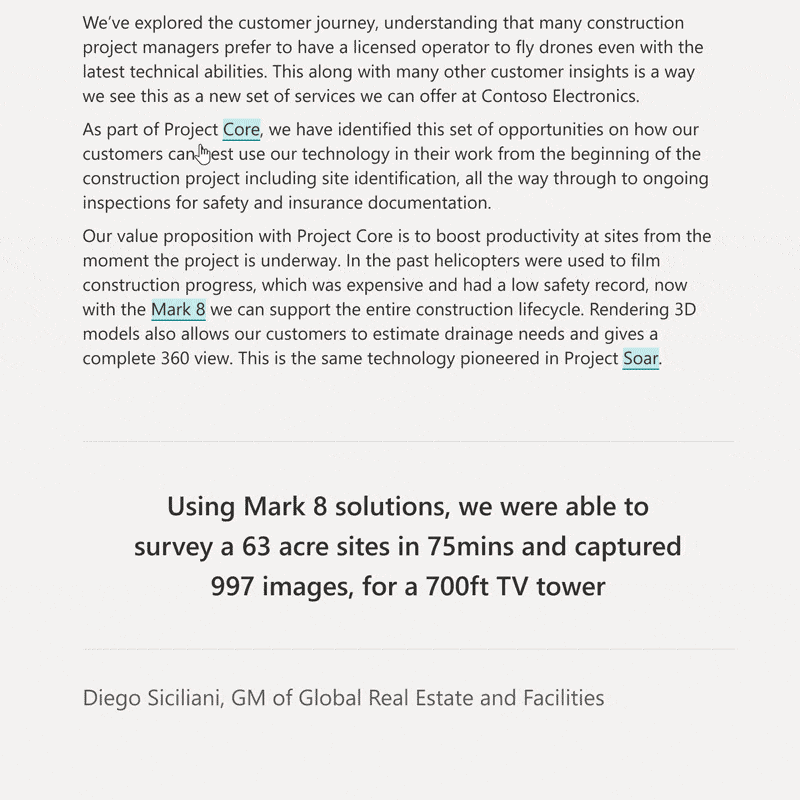 Integration across Microsoft 365 apps
Project Cortex technology will be deeply integrated into many of the Microsoft 365 apps you use on a daily basis. Under the Project Cortex framework, all the data your organization stores in SharePoint will be processed and sorted using image and text recognition. The technology will use AI to create its own metadata, then use this metadata to organize information by topic. When a topic is referenced elsewhere within Microsoft 365 – in a Teams conversation or a Word document, for example – users will be prompted to view the card on that topic without leaving the app they're currently in. Topic pages will also show up in Microsoft Search results.
While this hasn't happened yet, it's only a matter of time until Project Cortex finds its way into non-Microsoft apps, too. A Project Cortex API is expected to become available later in 2020 so that third-party developers can set up connectors for their own apps and tools to be incorporated.
Machine teaching capabilities
One of the more exciting aspects of Project Cortex is its machine teaching capabilities. This allows subject matter experts within your organization to teach the technology how to handle information, creating custom processes that improve over time. Machine teaching capabilities are powered by LUIS, an existing Microsoft Azure technology that incorporates language understanding into apps. LUIS allows the AI to extract information from unstructured documents and apply a learned model to the data it finds, which can be adjusted and curated by humans as needed.
3 ways Project Cortex will change the way you work
1. Manage information more efficiently
According to research from Microsoft, managing information is a pain point for many businesses. Approximately one-third of companies struggle with the volume and variety of new information entering their organization, particularly information that is gathered by email, scanned documents, or paper forms – or, more frequently, some combination of the above.
The real obstacle is that this information doesn't come in a standardized format. As an example, if a company receives thousands of invoices from vendors, these invoices will probably be structured in thousands of different ways; each vendor uses their own invoice template. Key details like the invoice number, due date, and total amount will all be located in different places. Project Cortex scans these documents and finds the relevant information automatically, cataloging data in a standardized format that is much easier to process.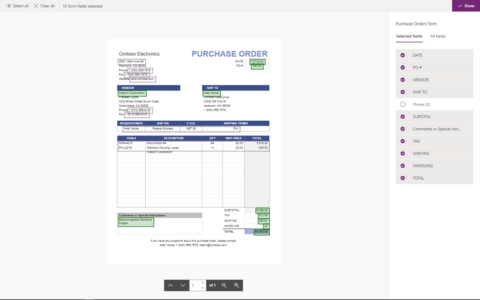 2. Empower employees with better knowledge
With the introduction of topic cards and knowledge centers, employees will have more access than ever to the information they need for their role. Some of the positive impacts you can expect to see include improved workflow efficiency, shortened onboarding time, and higher employee engagement.
The bottom line is that Project Cortex completely reverses the flow of knowledge, bringing information to employees instead of bringing employees to information. The people in your organization no longer need to navigate to a search function in order to find what they need; the information is already sitting right there in front of them.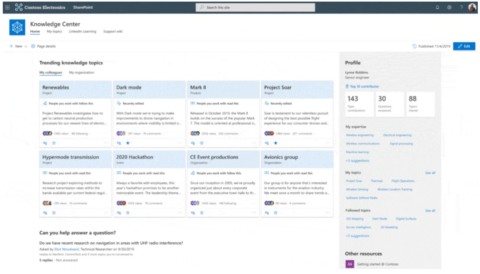 3. Get superior insight with analytics
With better information management, companies can also use Project Cortex to improve their insight and analytics. Less is known about this aspect of the technology so far, but Microsoft has released some details showing how Project Cortex will aggregate information into content centers, which Microsoft calls "libraries with superpowers". Content centers will gather analytics and enable report generation to help companies better understand how their content is used.
Preparing for the arrival of Project Cortex
When Project Cortex finally arrives, we'll be ready and waiting to help companies best leverage this technology to improve efficiency and grow internal knowledge. Is your organization prepared to hit the ground running with Project Cortex from day one? To find out, ask one of our experts by scheduling a consultation.