Powell 365 was named Intranet Choice – North America and for Multinational Companies by the UK based intranet consulting company, ClearBox Consulting.
Go beyond an intranet-in-a-box, with a Powell 365 Digital Workplace Solution and the Powell Manager design tool!
Every year ClearBox consulting releases its canonical SharePoint intranet-in-a-box report. The independent consultancy is dedicated to providing a human approach to technology. The company specializes in intranets as well as the wider digital workplace realm and all its associated digital communication and collaboration tools. They are a reputable source in this fast-moving sector and provide unbiased and educated advice to companies of all sizes.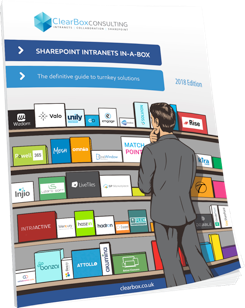 SharePoint Intranet-in-a-Box
This report is a comprehensive guide to turn-key SharePoint solutions, that reviews over 35 different ready-made solution offerings and eight "up and coming" product listings. It is compiled of over 250-pages and delivers an independent comparison of leading intranet add-ons for SharePoint and Office 365 tools. The detailed report includes screenshots, scenario-based evolutions and critical evaluations of the ever-growing product space.
On Monday, November 27th, the expanded third edition of the report was released to the public. It is the most comprehensive to date, covering tools in-depth and including pricing information as well as background information on each company within the report. "If you are in the position of looking at an intranet in a box product to purchase, I would highly recommend investing in this report to save you the pain later on," said Jeremy Thake, Senior Product (Office 365) Marketing Manager, Microsoft, via Medium.
Intranet Choice – North America and Multinational Companies
Powell Software is delighted to have our Powell 365 solution recognized as a stand out solution in the ClearBox report, not once, but twice! Powell 365 was named Intranet Choice for North America and intranet choice for Multinational Companies. As the report is scenario based, it means that each reviewed solution is evaluated against the same requirements. Therefore, we are delighted to be highlighted with these two badges and rise above our competition.
Powell 365 Digital Workplace Solution
In the report Powell 365 performed very well in multiple scenarios. We strive to provide the best experience possible for our customers. The Powell 365 digital workplace solution takes the end user experience one step further by providing a single and engaging look and feel across all platform types and tools. Powell 365 produces a seamless and evergreen intranet experience and is easy to use and beautifully designed.
We are proud to be one of the first add-on solution companies to fully support the SharePoint Modern Experience and SPFx. It is now possible to build SharePoint Communication sites with Powell 365 SPFx extensions and SPFx web parts in our portal designer Powell Manager! With Powell Manager, our clients go beyond an intranet-a-box and create their enterprise portal in just a few clicks. You always stay in line with portal evolutions and simplify portal management thanks to the Powell Manager tool. To get an inside look at Powell 365 or Powell Manager, set up a free demo today!
If you have a SharePoint or Office365 project coming up, make sure to purchase the ClearBox Consulting comprehensive report: https://www.clearbox.co.uk/sp-intranet18