March 4th 2021, Paris: Microsoft today announced a new Conditional Access authentication context capability. The unveiling of this new capability was made at the Microsoft Ignite conference. As a preview partner with the Microsoft Graph team, Powell Software, global innovators in hybrid working, is one of the first to integrate Conditional Access authentication context into the digital workplace.
Microsoft Ignite Digital event 2021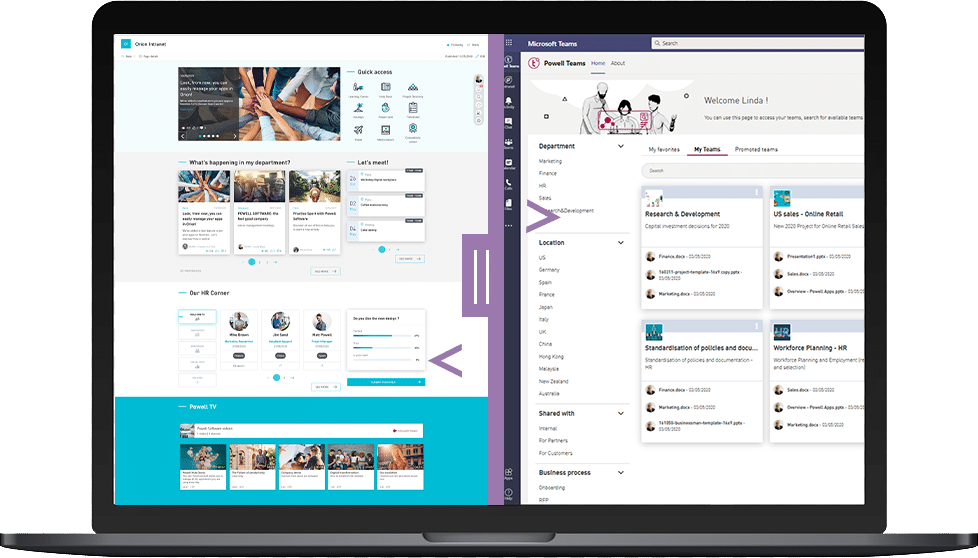 Microsoft Ignite 2021 went virtual this year from March 2nd to 4th, and as usual, the event was packed with new announcements and releases.
Read the full round-up of Microsoft identity partner integrations to strengthen your security, including Azure AD Conditional Access authentication context with Powell Software.
Powell Software creates digital workplace solutions to connect employees and organizations in the hybrid workplace. By gathering collaboration, communication, and employee engagement tools in one platform, Powells solutions help employees get their day-to-day work done. Business processes like Sales RFPs, or employee onboarding, are made easy with dedicated and customized spaces in Teams and the intranet.
Digital Workplace Security for Hybrid Work
In the move to remote and hybrid work, the digital workplace is the go-to place for employees to access information and documents. However, some information can be confidential or business-sensitive and should be only accessible to certain departments or roles. Take the example of Sales Requests For Proposal. With Powell Teams a sales manager can create in just three clicks a dedicated space for their team to work on the request.
Here they can collaborate, divide up tasks and monitor progress. Team members also have access to documentation like legal and pricing information. With Conditional Access authentication context, sensitive documents can be granted an additional level of security. Two-factor authentication requires Team members to input a unique code, sent to their phone, to access the area.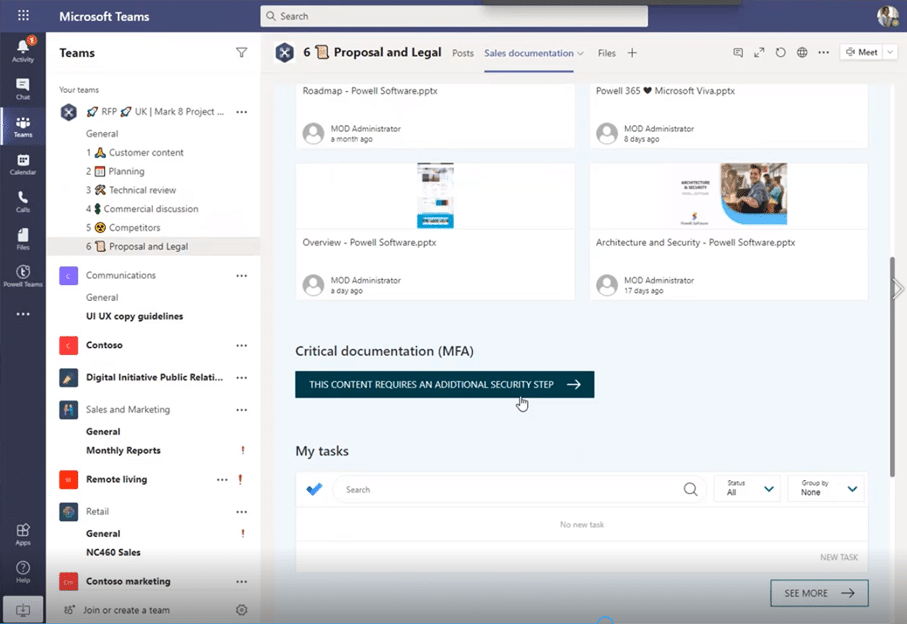 For employees it's straightforward, they have a simple app on their phone which they likely already use for other programs. Authentication context helps IT ensure confidential information is available to the right people.
The digital workplace is an inclusive environment providing employees with everything they need, no matter where they work from. Authentication context helps add extra security while retaining agility. Push notifications to an employee's mobile mean it's easy to access information, but prevents it from being opened, accidentally or otherwise by others.
About Powell Software
Powell Software is a global ISV headquartered in Paris, France. Innovators in digital workplace solutions, Powell Software's mission is to connect employees with organizations. They achieve this through a complete communication, collaboration, and engagement platform. Powell Intranet is a corporate communications platform to inform and engage employees. Powell Teams is a Microsoft Teams application to provide governance for IT and an improved experience for end-users. Engaging templates bridge the two to make day-to-day processes, like employee onboarding, simple and efficient.
Keep up to date on the digital workplace and get insights direct to your inbox every month by signing up for our newsletter.