Powell 365 is on tour! Join us for the first stop on our European roadshow and meet our partner Sorce at the Royal Institute of British Architects in London, on June 20th, 2019.
About the Event
This seminar will be an opportunity for you to understand the evolving demands around the digital workplace and discover the modern SharePoint experience. Plus, you will have the opportunity to share your experiences with our Powell Partner, Sorce and network with our experts. This is a private event and seats are limited. Make sure to register today to save your spot.
How to create your modern Office 365 intranet
Are you responsible for managing a dgital workplace project within your company or currently responsible of your Office 365 intranet? Come meet us in London to learn how to add value to your intranet and increase collaboration within your organization.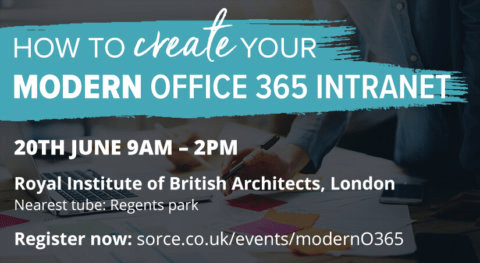 Microsoft technologies are evolving at a very fast pace. These digital tools are changing the way we collaborate and communicate with our colleagues. This event is an opportunity for you to get up to date on how the digital workplace is evolving. Our three speakers will be sharing all their knowledge around creating and managing a digital workplace built on Office 365.
The speakers:
Martin Miles, SORCE, Technical Director has been instrumental in helping many customers create strategic, integrated and customized Digital Workplaces.
Jeremy Stewart, SORCE, Head of Business Development, applies expertise to help potential customers understand the value of a successful Digital Workplace, and help existing customers get the most out of their platform.
Laurent Elmaleh, Powell Software, Business Development, has held several positions at Microsoft. He contributes to the success of Office 365 by helping customers in choosing their Digital Workplace platform and helping to transform their business model.
The complete schedule of the day:
About Sorce
SORCE has been delivering intranets to the UK intranet market since 2001.  They are very focused on the needs of communications teams, and passionate about enhancing our clients' businesses. The company works closely in partnership with clients and utilizes the latest technology to tailor a truly flexible intranet to corporate requirements. They have an experienced team of intranet experts in place, and a tried and tested implementation methodology.
For more information, go to https://www.sorce.co.uk/
About Powell Software
Powell Software is an International Software Vendor, that drives digital transformation by offering intelligent digital workplace solutions based on Office 365. Through our collection of easy to use collaboration, productivity, implementation and governance products, we help companies realize their digital workplace projects from A to Z with ease. With offices in Europe, North America, Middle East and Asia, the Microsoft Gold Partner support customers all over the world and drive innovation at work. Today, Powell Software has more than 900,000 users and is deployed by over 200 resell and implementation partners worldwide.