Partner Excellence Awards 2017
Powell Software is delighted to recognize 3 special companies as the top partners of 2017 in the Powell 365 Partner network within three different regions.
FRANCE WINNER: AI3


AI3 has efficiently pushed the Powell 365 solution throughout the French market since becoming our partner in October of 2016. We are pleased to name AI3 as the Powell 365 partner of the Year for France. Their innovative efforts and dedicated work ethic has helped make Powell 365 a house hold name in the hexagon. As Jean-Pierre Vimar, CEO of Powell Software, has said, "Having a highly qualified partner like AI3 has been a great opportunity for the commercial development of our solution." We are happy to have the opportunity to reward their hard work on several different and outstanding projects.
EMEA WINNER: Sogeti Netherlands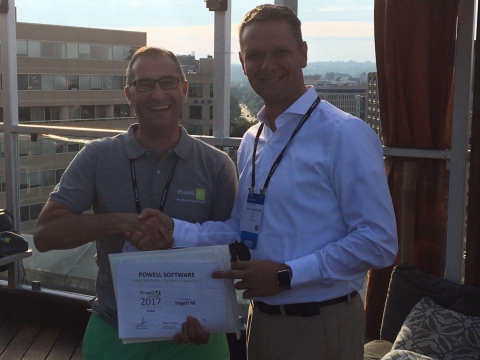 Sogeti Netherlands was our first Sogeti branch to become a Powell 365 partner. Since joining the Powell 365 partnership network in October 2016, the Netherlands team has special efforts in growing Powell Software's presence by marketing and promoting the Powell 365 digital workplace. They held an explanatory webinar and exhibited Powell 365 at the Office 365 Engage event in the Netherlands. Plus, they have been an outstanding reseller. Our client, CF College was overjoyed with the results of their Powell 365 digital workplace and sang the praises of our outstanding partner. We are happy to acknowledge their extra efforts and name Sogeti Netherlands the Powell 365 Partner of the Year for EMEA.
USA WINNER: BlueMetal
BlueMetal was named the Powell 365 partner of the Year for the USA! Since becoming a Powell 365 partner is January, BlueMetal has been working hand in hand with our US offices to drive corporate success with the ready-made Powell 365 solution. Most recently, in June when they successfully launched a full-fledged portal for our client Moretrench. Their hard work and dedication to reselling the Powell 365 digital workplace has led to a successful partnership and broadened Powell Software's reach throughout the American market.  "We are humbled to have this partnership with BlueMetal considering their high level of expertise and recognition on the market," said Antoine Faisandier, Powell Software North America CEO.
These three over achieving companies were announced at the Powell Software Partner of the Year for each region at the Powell 365 Inspire 2017 cocktail #Powell365Party. This was a great event that  gave Powell Software the chance to acknowledge and reward our partners for their outstanding and innovative work reselling the Powell 365 digital workplace throughout the international market. A special thank you to everyone to came out and celebrated with us!
Powell 365 Partner Network
At Powell Software, we look for like-minded partners who aim to improve an end user's daily business operations through cutting edge technology solutions. In less than one year, Powell Software has recruited more than 60 partners who have embraced its technology to offer a new generation of digital workplaces to customers.
With the help of our partners, Powell intranet solutions optimize our clients' investments worldwide.  Today there are over 300,000 users to get to take advantage of Office 365 thanks to the work of our exceptional partners.
Powell Software wants to thank all its current partners who have already trusted our compelling value proposition and welcome new partners worldwide to address an increasing demand. This compelling model that combines the Powell 365 technology to a network of partners with varied expertise enables us to provide the most compelling offerings to answer our customers' needs in the best way.
Powell Software
Powell Software is a subsidiary of Expertime Group, a company specialized in consulting and the integration of collaborative solutions in the Microsoft environment. The international company helps other companies accelerate their digital transformation. It is also an independent software vendor with its Office 365 portal, Powell 365.
Powell 365 is an out-of-the-box intranet portal built on top of the Microsoft Office 365 collaborative suite. Powell Software helps customers boost their business productivity by delivering this innovative communication and collaborative solution powered by Office 365. Thanks to pre-defined templates and rich customization features, Powell 365 enhances user experience and reduces implementation time of the Office 365 collaborative suite significantly.
Should you have any questions about this award or the Powell 365 partner program please contact us today!