Powell Manager
As a SharePoint administrator, your role is crucial in creating and maintaining SharePoint sites that meet the needs of the business. You are responsible for designing and implementing site collections, customizing content types and lists, and ensuring that the sites are easy to navigate and use for all employees. However, maintaining these sites can become daunting as the business evolves, especially at scale.
So, are you tired of struggling to maintain and scale your SharePoint site collections? Do you want to save time and streamline deployment, even if you're a PNP or Power Shell Script expert?
Look no further than Powell Manager. Our unique patented technology allows you to create and deploy templates for your sites and pages easily and even make updates at the site collection, page, list, and web-part level with a simple "Sync" button.
But Powell Manager isn't just a site factory – it's also a powerful solution for organizing multiple site collections into one cohesive intranet. With the ability to create a personal navigation header and automatic updates as new sites are added, keeping your global architecture organized and up to date has never been easier.
Powell Manager relies heavily on the Microsoft Graph API to deploy and organize customer data in the site collections. The Graph API is a powerful tool that allows access to data and functionality across Microsoft 365 services, including SharePoint. By leveraging the Graph API, Powell Manager can easily access and manipulate data in SharePoint, including creating and updating site collections, customizing content types and lists, and automating the creation of pages and web parts.
Additionally, the Graph API allows Powell Manager to access data across other Microsoft 365 services, such as Exchange, Planner, and Teams, which can be used to further customize and enhance the functionality of the SharePoint site collections. This integration enables Powell Manager to provide an easy and streamlined way for SharePoint Admins to maintain and scale their SharePoint site collection and to create more sophisticated and powerful SharePoint intranet solutions.
And that's not all – Powell Manager also extends the capabilities of the Powel Intranet huge templates gallery, allowing you to create your own themes, CSS, site scripts, and more.
Each customer gets three environments for managing a site collection: Development, Testing & Production. So you know what you do before pushing updates to your employees.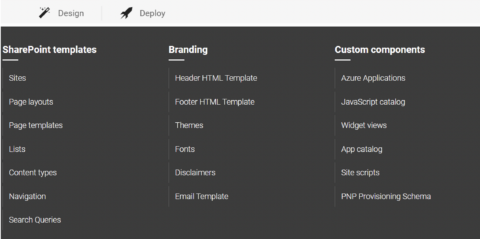 Want to know more?
Want to learn more about how Powell Manager can save you time and effort as a global admin of SharePoint sites?