Powell Software marks 1st year at International Status with the Powell 365 digital workplace
Last month marked the end of our first year being an official international company! Since we started this adventure, Powell Software has reached new heights in the global market and we are continuing to grow each day. Our goal has always been to reinvent communication and collaboration through technology and thanks to the Powell 365 digital workplace, it has never been easier to build a digital workplace.
Your Office 365 Intranet
Powell 365 is a ready-made digital workplace that is built on top of the Microsoft Office 365 collaborative suite and focuses mainly on end user needs. Our tool helps companies take advantage of their Office 365 tenant by providing a compelling and user friendly way for employees to communicate and collaborate.
"We were looking for a simple, ergonomic, quick to deploy solution that evolves over time," said Sandrine Catonné, Director of the Research & Knowledge Center at Wavestone. "What attracted us: the possibility to overcome the complexity of the Office 365 suite and focus on the uses and features."
Powell 365 intranet solutions unify all Office 365 features into one simple and attractive digital workplace. It started with SharePoint but today we offer the full range of Office 365 features and more. Everything from SharePoint, Groups, Yammer, Office video, PowerBI, Outlook, Skype online, Dynamics CRMOL and Delve are all brought together and available within Powell 365 intranet solutions. Powell 365 reformats these features and therefore significantly boosts Office 365 usage. One month after implementation our clients see Office 365 usage jump to 90% on average.
"Powell lets you benefit from a fully integrated and rich experience of Office 365. Your users will simply love it," said Alexandre Cipriani, Product Marketing Manager Office 365 EPG commercial at Microsoft France. It is very simple and quick to deploy your own customized Powell 365 portal onto your companies Office 365 tenant. Today, we can deploy a completely customized collaborative and social platform in as little as two to four weeks, thanks to our state of the art portal designer.
Powell Manager
Powell Software is the only company on the market with our very own wizywyg portal designer, called Powell Manager. Powell Manager allows you to create your portal and develop your very own Powell 365 digital workplace through simple and easy to use drag and drop features. With this tool, you can pick and choose between all the different Office 365 features and other web parts such as Facebook or Maps, that you want to include in your portal. Powell 365 provides ready to use web templates as well as a plethora of web parts and external connectors, so that you don't have to start from scratch. Format your templates and customize your very own portal aligned to your company.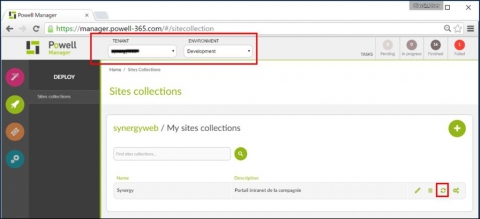 "With the move to SharePoint Online and Office 365, organizations that relied on the dev/test/production environments to safely release customizations are now faced with the challenge of how to replicate that system in the cloud", explains Kelly Edinger, Director, Solutions Delivery director at Amaxra. "With Powell Manager, organizations can manage the three environments by quickly replicating all customizations, hierarchy, taxonomy and navigation across Site Collections."
This dynamic designer accelerates and simplifies the deployment of your intranet solutions. See an immediate and strong return on investment by not wasting any time in the creation phase of your project. "It's simple, user friendly and line of business oriented. The best part is that it will cost you less, and you'll implement it in a very short timeframe," explains Alexandre Cipriani, Product Marketing Manager Office 365 EPG commercial at Microsoft France.
It's all about the end user
It is a very exciting time for the Powell 365 intranet. Today, we have over 300,000 Powell 365 users communicating and collaborating all around the world. Our client base has expanded internationally and across all sectors with 60 clients that range from fortune 500 companies to global conglomerates. We offer the best ready-made solution on the market and have very happy customers who confirm it.
''We had a project to deploy a knowledge management intranet based on Office 365 and accessible by our 30,000 employees all around the word. Powell 365 has been our answer!" said Dirk van Leeuwen, Chief Commercial Officer at Webhelp.
Powell 365 Partner Network
Being that our product is built on top of the Microsoft Office 365 suite, we work closely with Microsoft and have a strong relationship with several Microsoft teams. We are proud to be Microsoft Gold partners and participate in Microsoft events around the world.

We have a very robust partner network, that is continually growing. Powell Software Co-founder and CEO, Jean-Pierre Vimard, explains that, "Our growth model is all about building up a strong network of partners worldwide who resell and implement Powell 365 and deliver top-notch intranet portals to their customers on top of Microsoft Office 365".  Being an international company, we work hand in hand with our partners to improve daily tasks and increase business productivity for all our customer, no matter where they are located.
"We have chosen to select Powell 365 as our primary Intranet designer solution after an impressive demonstration from the Powell 365 team. We believe that Powell 365 presents a world of opportunities to vastly improve the productivities of our clients," said Lee Hui Song, Director of Alfa Connections, a Powell Software partner located in Singapore. Today, Powell Software has over 80 partners who implement Powell 365 solutions, making Powell services present in all four corners of the globe. Thanks to our strong partner network, innovative product and happy customers, Powell 365 reached an award-winner status this past year.
An award-winning intranet
We are proud that Powell 365 intranet solutions have won several different awards recognizing Powell Software and our outstanding solutions and services. Thanks to our innovative product, we were named the Microsoft France Partner of the year for 2016. In July, the IAMCP named Powell Software the Partner Silver winner for the EMEA zone. Then at Microsoft Ignite in November, the Powell 365 team won first place at the SharePoint Dev Kitchen Hackathon, proving we have the best developers out there! If you would like to learn more about our award winning collaborative Office 365 intranet, get a demo today!
We are so grateful and thankful for the success of our Powell 365 intranet solutions. Powell Software is excited to see what the future holds. We can only go up for here!
We are so grateful and thankful for the success of Powell 365 intranet solutions. Powell Software is excited to see what the future holds. If you would like to learn more about our Powell 365 digital workplace solutions built on top of Office 365,
GET A DEMO: 
[contact-form-7 id="2889″ title="Request a demo"]