Powell Software was awarded the Gold Investment Award by the French American Chamber of Commerce!
We are super proud to announce that Powell Software won the Gold Investment Award at the 4th Annual French American Business Awards ceremony which took place in Seattle on Friday, May, 18th!
The Gold Investment Award recognizes a company that's had successful business development in the Pacific Northwest or in France in the past three years. As Powell Software is a growing ISV company based in the United States and France, we were nominated to compete against several other businesses gaining leverage in the Pacific Northwest. Ultimately, Powell Software won the Gold Investment Award and we couldn't be happier with this kind of recognition from the French American Chamber of Commerce.
"Our strategy to invest immediately in the US after the creation of Powell Software in France has clearly paid off, said Cyril De Queral, CEO of Powell Software France. "It has transformed the company, its offering, and its strategy. In the IT industry, being an international player means to be present in the US market. It clearly provides a superior legitimacy to our solutions."
The French American Chamber of Commerce
The French American Chamber of Commerce of the Pacific Northwest is a non-profit, independent, member-driven organization dedicated to promoting the French American business community in the region. They support French and American companies located in the Pacific Northwest of the United States and promote their development strengthening commercial relations between the two countries.
Powell Software was founded in 2015 by Expertime Group, a French collaboration platform company, specializing in consulting and solution integration within the Microsoft environment. Since its creation, Powell Software has grown significantly and accomplished a lot. Today, Powell Software had over 60 clients worldwide who use the Powell 365 digital workplace solution daily. We built a strong network of partners who help drive innovation every day. Our business is flourishing and our team of experts is growing.
"Since its creation, Powell Software has bet to become a global player which meant to make a significant business in the US, explains Antoine Faisandier, CEO of Powell Software US. "That is why Powell Software USA was launched very quickly after Powell Software France and we are now recognized as a leading player on this market thanks to the investment that we have made over the past two years."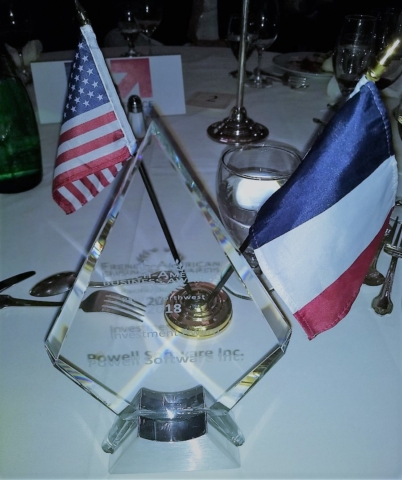 About Powell Software
Based in France and the United States, Powell Software drives digital transformation by offering Powell 365, an integrated digital workplace solution that transforms the user experience and boosts communication, collaboration, and business productivity. Behind each Powell 365 portal is the WYSIWYG designer, Powell Manager that configures compelling digital workplaces based on Office 365 and SharePoint.
For more information about Powell 365 or Powell Manager, please visit our website or contact us now for a free demo!