Extend the employee experience with the digital workplace app
Simplify internal communications and boost collaboration for all employees, from office to frontline workers. Access company information and documents in your pocket, anywhere and anytime with a mobile intranet app.
A user-friendly design, customized to your branding
Easy access to relevant information for all employees
Information is secure so you can work in confidence
Simplified  processes with apps in one place
Frontline and deskless workers are empowered
Benefit from personalized branding – The Powell App logo, splash screen and colors can be set to match company branding

Enjoy a user-friendly design that is simple to use for a more engaging employee experience

Gain quick access to your most used applications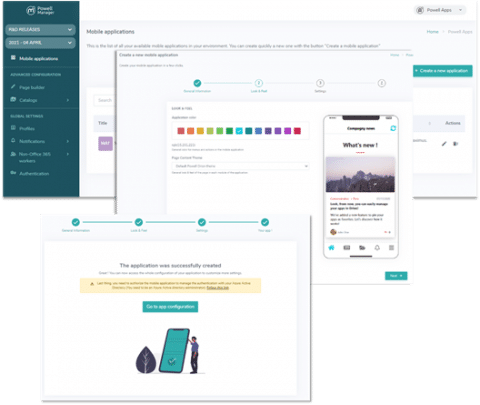 Effective & Personalized
Easily and effectively deliver relevant news and documents to all employees

Personalize the user experience with targeted content, notifications and alerts based on roles

Include and empower frontline workers and deskless workers  with an easy to set dedicated page in the intranet app

Equip non Office 365 license holders with read-only access to company information and documents
Natively Secure & Compliant
Work in confidence with a natively secured application based on Microsoft 365 offering authentication settings and identity management

Compatible with Mobile Device Management tools and multi-factor authentication systems

Data is stored in the Azure blob in your Microsoft 365 tenant by default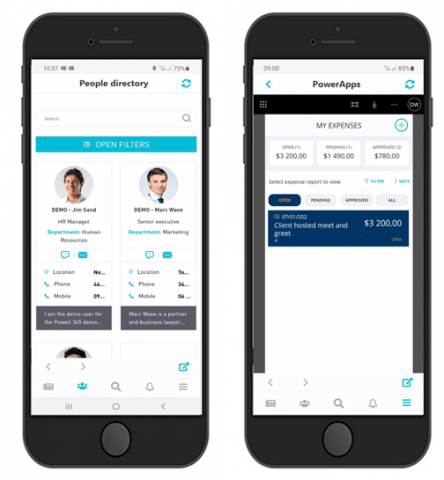 One Digital Workplace App
Gather all the Microsoft and third-party business applications you use every day in a one location

Find the right colleague and contact with access to your company employee directory
Two licensing options for your mobile intranet app
Standard Powell Apps
A ready-to-use mobile intranet app with out-of-the-box functionalities.
Included in your Powell Intranet license
News
Upcoming events
Recent documents
People Directory
Any intranet page in responsive design or customized design
Business applications
Mobile notifications for important content
Premium Powell Apps
Enterprise deployment (MDM) with multi apps management & design personalization.
Requires an additional license 
All standard features
Your personal mobile application name, logo, and splash screen.
Automatic package builder for deployment with an MDM solution on Android and IOS
Multiple apps management system
Powell Apps for Frontline Workers
Frontline or deskless workers have access to a digital workplace app tailored to their needs. From full communication and collaboration, to simply being informed of the latest news and events.
Empower frontline workers with information, engage in company culture, connect with colleagues. Offer an experience that is tailored to every worker's needs.
Three tailored experiences for frontline workers
Empower and Support Frontline Workers
Download this guide to providing frontline workers with the digital tools they need to stay engaged and connected. Discover the Powell Apps experience for every deskless worker.
48% of frontline workers are not digitally empowered! Unlike their desk-based colleagues, field workers often don't have access to digital communication and collaboration tools, like a company intranet. That means they lack access to internal news and events, making it harder to feel part of the company culture. Providing a shared space tailored to frontline workers' roles boosts feelings of belonging, helping foster inclusivity and engagement.
Powell Apps features for mobile & frontline workers