Understanding how to motivate employees can be difficult at the best of times. During a pandemic, this is amplified as HR managers confront challenges stemming from measures designed to keep staff safe. Employees are also struggling as they deal with short terms changes, like a move to remote work, becoming permanent. This adjustment hasn't been easy and many employees are finding it difficult to stay motivated away from the office. With remote work set to stay long term, HR needs to consider how to boost motivation in the workplace using digital tools.
Employee Motivation Pre-Pandemic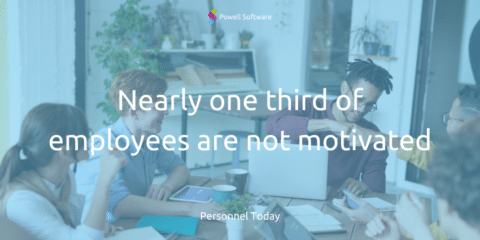 Even before Covid, employee motivation was dwindling. In 2019, nearly a third of workers said that they were not motivated to work, up from 18% in 2018. Now, with employees moving to remote work and dealing with the stress of a global pandemic, HR managers need to work even harder to keep employees engaged. A lack of motivation has serious consequences for an organization, from decreased employee productivity to higher staff turnover. But it doesn't have to be this way, here are 7 tips on how to motivate employees remotely.
7  Tips on How to Motivate Employees in a Hybrid Team
1.      Reward individual and team success
Everyone wants to be rewarded for a job well done, and it doesn't always need to be financial. For example, experiences can reward employees for their work while also building stronger team bonds. In fact, 72% of millennials value experiences more than things. HR might wonder how to motivate a remote team with this type of reward, the answer lies 'outside the box'. Host a virtual breakfast and have pastries delivered to employees. Get everyone together on a Teams meeting to toast to their success. For something unique, organize a virtual escape game.
If an employee has landed an important contract or pulled off a big event, let people know. Recognize their achievement by posting on the company intranet, and maybe send them a bottle of bubbly if they've done a super job.  One study found the number one driver of employee engagement was recognition.
2.      Recognize important moments
Recognizing the small or big events in employees' personal lives is a simple way to create a moment of happiness in their day. A shout-out on Teams on an employee's birthday, or after a wedding or a birth will bring a smile to everyone's face. Maybe a colleague has run a marathon or raised money for charity, recognition of non-work achievements acknowledges people as more than just employees.
Recognition makes people happy and happy employees are 12% more productive.
3.      Integrate non-work activities
In the move to remote work, employees lose out on social occasions like team lunches or after-work drinks. Grabbing a sandwich with a co-worker or a coffee with the team is a chance to catch-up, brainstorm problems, and socialize. Maintain these moments with remote workers through virtual coffee calls, water cooler chats, or after-hours events on Teams. Keep employees engaged and connected to boost motivation.
4.      Encourage switch off
No one can operate at 100% all of the time but in a remote work setting, it can be hard to switch off at the end of the day. If employees can't physically leave their office, when home is now the office, they need new ways to separate the two. Some digital workplace tools, like Microsoft Teams, have recognized this and introduced virtual commutes and mindfulness to improve employee wellbeing.
Create guidelines for remote employees on when they are expected to be online. Encourage colleagues to respect these hours. Store these guidelines where employees can find them, like on the company intranet, and integrate into the employee onboarding process.
Facilitate a home-work balance by encouraging a mentality of work done, not hours spent.
5.      Highlight career opportunities
Employee motivation can suffer if staff can't see a clear path to progress within an organization and it can lead them to look elsewhere for opportunities. In fact, one of the main reasons employees leave their job is career progression. Often internal candidates are unaware of job openings, or their eligibility to apply. HR managers should ensure job postings open to current employees are advertised to them. Regularly posting open positions on the company intranet lets employees know what roles are open. Even if they are not eligible to apply yet, it motivates employees to get to the stage where they are.
HR managers can also encourage employees to share open roles with their wider network, as part of an employee advocacy program. Provide the motivation to share by rewarding employees for any recommended contact who is hired.
6.      Give employees flexibility in where they work from
Employees also want flexibility in their workday, and the pandemic has only amplified this. One study found that after working remotely, 60% of employees wanted flexibility on where and when they work from going forward. The days of being tied to a desk from 9 to 5 are over, employees want to have autonomy in how they do that work. Organizations and HR managers can facilitate this by offering employees the option to work remotely, in-office, or a combination of both with a hybrid workplace model. Not offering remote options can negatively impact motivation, and push employees to leave for a more flexible employer.
7.      Create a positive work environment
Happy employees are more motivated and productive but staying upbeat while working alone from home is tough. Walking into an office to be greeted by friendly colleagues creates a positive space to boost morale. Remote employees need this too, and it can be replicated through the digital workplace. Take a collaboration space like Microsoft Teams, colleagues can chat and collaborate. They can share gifs, emojis, a favorite song, or video. HR and managers can encourage everyone in the organization to create a positive digital workplace. One way to do this is to create specific channels in Microsoft Teams dedicated to good news, coffee chats, or social spaces.
Conclusion
Understanding how to motivate employees from a distance just requires some strategic planning and the right digital tools. Ensure employees are equipped with the technology they need to get their work done, collaborate, and stay productive. The best way to motivate employees is to simplify their day to day work and create an environment that allows them to thrive. Provide them with a space to collaborate, like Microsoft Teams and a platform, like a corporate intranet, where they can stay informed on company news and updates, building a sense of belonging. Connect these tools to ensure the hybrid workplace allows even better collaboration than the physical workplace.
Transitioning to remote work is a monumental challenge and there is lots to consider. Join us on December 3rd, 2020 for our Global Convention where we will be discussing these challenges, providing solutions, and focusing on best practices.