We work with over 70 partners to implement Powell Softwares digital workplace solutions. Our partners ensure customers make the most out of Powell Intranet and Powell Teams and get the right solution for their needs.
With our partners, we have a clear ambition:
"We aim to make our products easy to use and improve end-user experience. Our ecosystem can help any organization deploy and leverage modern digital workplaces to connect their employees across the three unified pillars: Communication, Collaboration, and Business Processes" – Edouard Payenneville, Chief Sales Officer at Powell Software
This year we were delighted to welcome new partners to our ecosystem, collaborate on projects and jointly innovate. We know that we can go further together and are already looking forward to collaborating in 2023.
As the end of the year draws closer, we would like to take the opportunity to reflect on the work all our partners have done and announce our Powell Partners of the year, 2022!
And the winners are…
Western Europe – Exakis Nelite
Powell Software and Exakis Nelite have built a strategic partnership in France for the past three years, collaborating on digital workplace transformation projects across industries. Exakis Nelite has positioned Powell Software as their partner of choice to drive digital workplace projects for over 10K users, supported by more than 15 certified consultants! We have worked together on multiple projects, including the public sector with Toulouse Metropole, and with large customers in the service and defense industries.
APAC – Stratos Technology Partner
Stratos Technology Partners have demonstrated holistic expertise with M365, backed by excellent customer relationships. Within their first year as a Powell Software Partner, Stratos brought us fantastic references from New Zealand, contributing to our expansion within this market. We were also thrilled to be by their side at industry events to increase awareness of digital workplace solutions leveraging the power of Microsoft 365. 2023 is already promising, and we look forward to taking this partnership to the next level!
North America – Synergy
We are proud to award Synergy Partner of the Year, North America, for the 3rd year in a row! Synergy has been instrumental in our mutual success in delivering an engaging intranet in SharePoint and addressing Microsoft Teams governance and sprawl.  Our strong partnership in North America has allowed our existing and new client relationships to realize their potential in intranet design, branding, and adoption.
DACH – Addhucate GmbH & Co. KG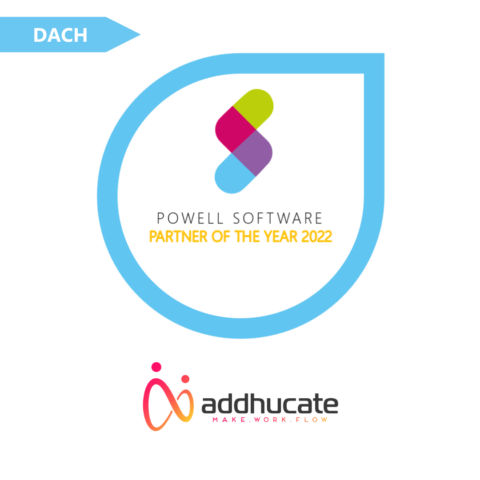 Addhucate adopts a fresh and human-centric approach in all its projects. Thanks to their expertise, Addhucate successfully delivers Powell's solutions to fit customers' needs. In 2022, they managed to bring many new happy customers into the Powell family. Thank you!
Thank you, Powell Partners!
Our winners have demonstrated a relentless commitment to Powell Software. They combine true technical expertise in deploying Powell Software solutions with a strong drive and ability to pitch Powell Software's unique value proposition to detect and close new projects.
This award is well deserved. Thank you so much for this commitment to our strategic partnership!
Are you interested in becoming a Powell Software Partner? Contact us to learn more about the benefits of a strategic partnership with Powell Software.