Powell Software starts off 2020 with Microsoft Ignite | The Tour London!
Join us in London at ExCeL London on January 16-17th for Microsoft Ignite The Tour 2020. This two-day industry-leading event will be packed with developers and tech professionals as well as industry experts and MVPs. We are excited to attend as a Silver Sponsor and demonstrate the latest Powell Software release.
Come meet us at Microsoft Ignite | The Tour!
Microsoft Ignite The Tour is a platform conference that brings the major Microsoft insights to a city near you throughout 2020. This is a great place to connect with our community and learn alongside industry experts with an outstanding lineup of event sessions. Attendees will have the chance to gain practical insights and best practices on the latest cloud technologies and business intelligence as well as try out different digital workplace solutions on Office 365 and SharePoint from the Powell Software product suite first-hand with an interactive demo.
Ignite London offers an excellent opportunity to engage with our intranet experts and learn about the latest industry trends along with product evolutions. Attendees will be able to meet one-on-one with our digital workplace specialists to talk about new features, obtain insights on building an evergreen solution and get a better understanding of how Powell Software aligns to the Microsoft roadmap. As a Microsoft Gold Partner with six levels of partner competencies, we love hearing your feedback and getting the in-depth technical questions.
Microsoft Ignite The Tour London will be one of the largest events on the Ignite The Tour. Notorious for filling up quickly, make sure to get your tickets before it is too late. Don't hesitate to book a meeting with our team in advance.
If you have any questions, feel free to get in touch. We can't wait to see you there!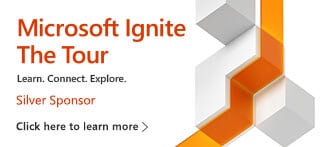 See you in London!  
London will be our first stop on Ignite The Tour. Powell Software will be sponsoring several cities along the tour. Check out these other destinations where you can meet the Powell Software team on the Microsoft Ignite – The Tour.
See us in these cities:
London, UK – January 16-17
Johannesburg, South Africa – January 30-31
Dubai, United Arab Emirates – February 10-11
Sydney, Australia – February 13-14
Hong Kong, Hong Kong – March 25-26
Don't forget! You can always get a full demo online. Contact us today and we'll show you how to optimize your current intranet into a solution that will take the everyday work experience to a whole new level.