Employee Engagement & Connection
Get work done more efficiently
Powell 365 is a comprehensive Digital Workplace platform that covers the spectrum of business communication and employee experience, as well as employee engagement, collaboration, and productivity. Built on Microsoft 365, our digital workplace solutions help you make the most of your Microsoft and 3rd party environment.
We offer one digital workplace platform, with two pillars, Powell Intranet and Powell Teams to provide a connected experience. Bridge both to get work done through digitized business processes.
Communication as it should be: attractive, simple, inclusive, and engaging for HR and Comms. Keep employees informed, engaged, and aligned to the company culture and its goals. Keep social links at all levels.
For Employees – Powell Intranet is ready-to-use and where employees need it – in your browser, in Teams, and on your mobile devices.
For IT & contributors – Based on Microsoft 365, it ensures Microsoft security and modern experience. It is fully customizable, easy to build, manage, and update at scale with our core engine.
Awarded – Powell Intranet is recognized and rewarded by IT Analysts
Enhanced Collaboration in Microsoft Teams
A modern collaboration experience that is effortless, organized, easy to manage, and governed.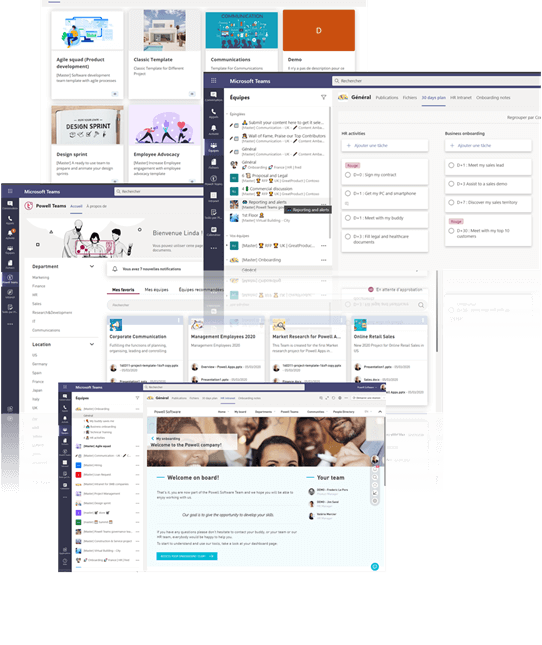 For employees
 Effortless collaboration – Collaborate instantly and effortlessly on your collective and repeatable activities through ready-to-use Team templates for various scenarios like employee onboarding.
Organized teamwork – Simplify navigation, visualization, and search to quickly find what you're looking for with a smart user dashboard.
Includes your intranet – Take advantage of Microsoft Teams user-centricity and bring your intranet into Teams. Smart bridges allow quick access to corporate resources, culture, and goals, and helps drive more employee engagement.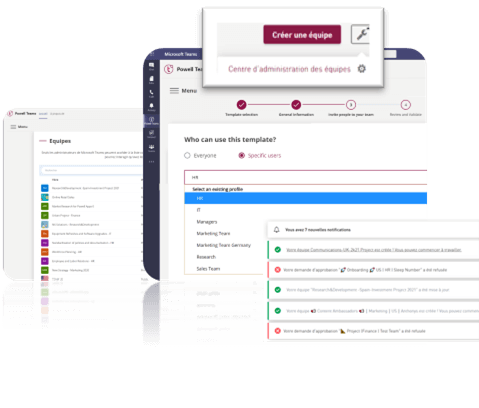 For IT Departments
Secured rules & usages – Prevent Team sprawl and bad habits. Monitor Team creation and management with a ready-to-use approval system and integrated governance rules. Provide a guided experience for employees with a framework.
Let's look at a use case scenario to understand Powell 365
Getting into the life of an HR Manager – Linda
Linda regularly onboards new employees who work partially remote or on the field. She wants to provide the best employee experience adapted to this hybrid work setup.
Let's see what Powell 365 Templates can help Linda create in just a few clicks.
An HR Space in the company intranet
Linda will be able to provide a dedicated employee onboarding section in the HR intranet space. New employees will find here everything regarding corporate information and resources. It will be personalized depending on their role.
What could be found
A message from the CEO
Onboarding documents kit
Global training videos
Main HR events & activities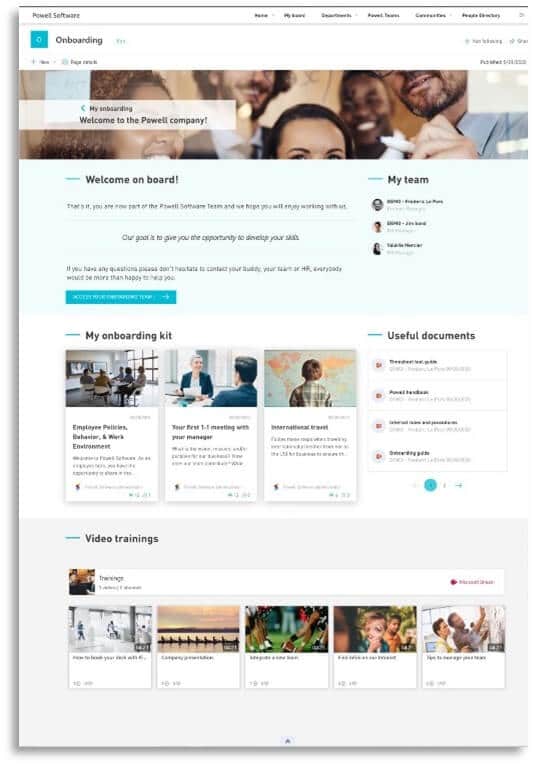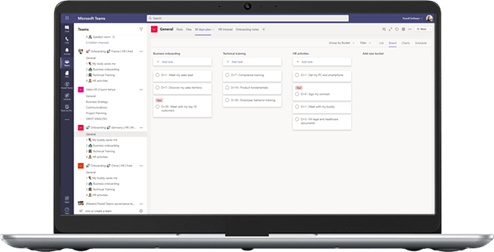 A private & dedicated Team
On top of the intranet space, Linda provides an augmented experience with a private and customized Microsoft Teams for the new hire. It includes the new starer, their manager, and buddy. They can privately exchange information and share information that couldn't be on the intranet.
To do this, Linda just picks the onboarding templates available in Powell Teams and gets her Teams created in less than 3 minutes. She now can follow all onboarded employees easily.
What could be found
A 30 days tasks plan
Training videos and notes for business onboarding
A presentation for the next all hands
Documents to sign
A list of events and HR activities
A channel to discuss with the buddy
Connected experience
The intranet is bridged in Teams for quick access to corporate communication, information, and resources without having to switch tools.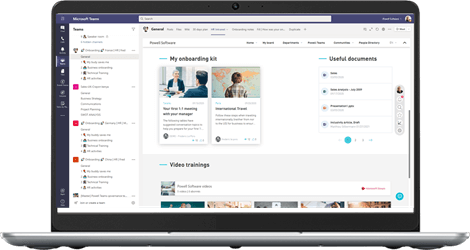 The best ROI you could get
Powell 365 takes your Digital Workplace to the next level, helping you to get the most out of it and leveraging your IT investments.
302 400 hours saved over 3 years