Gig Werks Partners with Powell Software to deliver Modern, User-Friendly, Digital Workplace solutions across Office 365, Teams and SharePoint
Powell Software is proud to announce it has partnered with Gig Werks to deliver modern, user-friendly, digital workplace solutions across Office 365, Teams, and SharePoint. This partnership allows Gig Werks to continue to expand on the high impact, high-value solutions it delivers to its clients.
With Gig Werks years of expertise delivering solutions to companies on the Microsoft Cloud, they understand that user experience and ease of use are some of the most important factors in driving a successfully adopted solution. With that in mind, Powell Software is a fantastic partner with our assortment of products that enrich the user experience and adoption of Office 365, Microsoft Teams, and SharePoint through modern interfaces and optimized governance.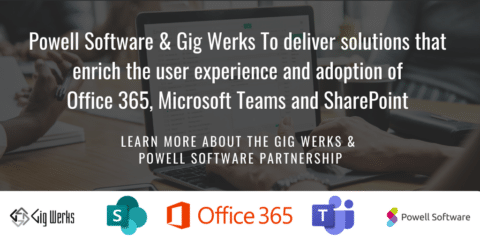 Kathryn Roses, Director of Sales at Gig Werks remarked, "Partnering with Powell Software offers immediate impact and benefit to a number of our clients and expands our offering on delivering business solutions with the optimal user experience across the Microsoft Cloud. Gig Werks is excited for the potential of this partnership and continuing to work with the Powell Software team."
Powell Software's North American Lead, Antoine Faisandier, commented, "Gig Werks has an expert understanding in digital transformation and implementation making them an excellent fit next to our intranet and remote-working solutions. Powell Software is excited to start working with Gig Werks and begin a successful partnership".
About Gig Werks
Be it in the Cloud with Office 365 or on-premises, Gig Werks has delivered targeted and focused business solutions for departments and industries, built on Microsoft SharePoint. A Microsoft Gold Partner since the firm's beginning in 2001, our tradition of excellence has resulted in Gig Werks winning numerous awards – including four prestigious Microsoft Partner excellence awards. For more information, visit www.Gig-Werks.com or follow us on Twitter @GigWerks or Facebook at www.facebook.com/GigWerks.
Whether building an intranet, extranet, or internet site, Gig Werks design skills and knowledge of the best technology in the market can transform your site into an intuitive user experience that drives adoption throughout the enterprise and ensures you take full advantage of SharePoint's capabilities.
SharePoint as a platform is great for intranets, extranets, and internet websites with the potential to manage content, enhance search, analyze data, improve collaboration, and maximize the potential of our client's investment. Allow Gig Werks to build a secure, collaborative hub for all your information and content both inside and outside the organization.
About Powell Software
Powell Software is an international Software Vendor, that drives digital transformation by offering customizable and evergreen workplace solutions, built on top of Office 365 and SharePoint. The Microsoft Gold Partner was founded in 2015 and has offices in Europe, North-America, the Middle East, Africa, and Asia. We help customers all over the world drive their digital transformation by offering revolutionary digital workplace collaboration and implementation products. For more information, visit: https://powell-software.com/en/
If you are looking to leverage Office 365 and SharePoint Online by implementing a digital workplace for your company, let us know! We can easily set up a meeting with one of our consultants to help you better understand the value of our Intelligent Workplace Suite. Contact us now!